News Release
40 EPS Members Receive Commissioned Officer Designation
40 Edmonton Police Service Senior Officers received their Commissioned Officer designation at a ceremony held at the Royal Alberta Museum on Fri., April 17.
"Although this honour will not change what you do, it is a prestigious and meaningful recognition of the significance of what you do. The parchments you are presented with today are a symbol, a symbol of power and authority, but also of responsibility, duty and commitment," said Chief Knecht.
Attending the ceremony was Edmonton Police Commission Chair Shami Sandhu, Councillor Scott McKeen, Dr. Curtis Clarke, Acting Deputy Solicitor General, and EPS Chief Rod Knecht.
For the first time in Alberta, municipal police agencies are receiving this prestigious honour. Commissioned officers command their specific unit or service and receive their authority for command from Her Majesty The Queen.
Historically, military and RCMP officers were commissioned once they achieved a senior rank. In the fall of 2014, the Government of Alberta extended this honour to municipal and First Nations police officers.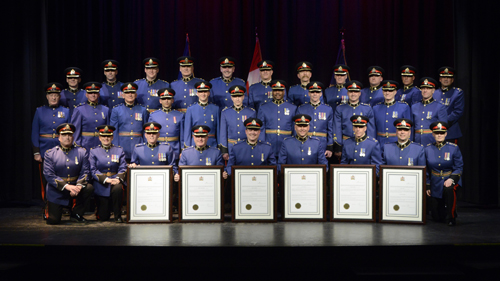 The recipients are as follows:
Greg ALCORN – Inspector
Phil BAILEY – Inspector
Darrin A., BALANIK – Inspector
Kevin, BREZINSKI – Inspector
Danielle, CAMPBELL – Deputy Chief
David, CHRISTOFFEL – Inspector
Darren, DERKO – Inspector
Bradley, DOUCETTE – Superintendent
Darren C., EASTCOTT – Superintendent
Trent, FORSBERG – Inspector
Kevin, GALVIN – Superintendent
Gary, GODZIUK – Inspector
Anthony, HARDER – Deputy Chief
Dean, HILTON – Inspector
Graham, HOGG – Inspector
Regan, JAMES – Inspector
Erik, JOHNSON – Inspector
Deborah, JOLLY – Superintendent
Denis, JUBINVILLE – Superintendent
David, KOROL – Deputy Chief, Retired
Brain, LOBAY – Inspector, Retired
Bradley, MACDONALD – A/Superintendent
Ed, McFARLANE – Superintendent, Retired
Edward, McISAAC – Inspector
Garry, MEADS – Superintendent, Retired
Alan, MURPHY – Inspector
Mark, NEUFELD – Superintendent
Brian, NOWLAN – Inspector, Retired
Thomas, PALLAS – Inspector
Gregory, PRESTON – Superintendent
Terrence, ROCCHIO – Superintendent
Darlene, SAVIOE – Superintendent
Brian, SIMPSON – Deputy Chief
Bill, SPINKS – Superintendent, Retired
Darcy, STRANG – Inspector
Chad, TAWFIK – Inspector
Teri, UHRYN – Inspector
David, VEITCH – Superintendent
Jeol, WHITTAKER – Inspector
David, ZUKIWSKY – Inspector, Retired
Rod, *KNECHT – Chief of Police
Nigel, *STEVENS – Superintendent, Retired
*Presented at separate function.