Condolences (source: edmontonpolice.ca)
In Memory of Constable Daniel Woodall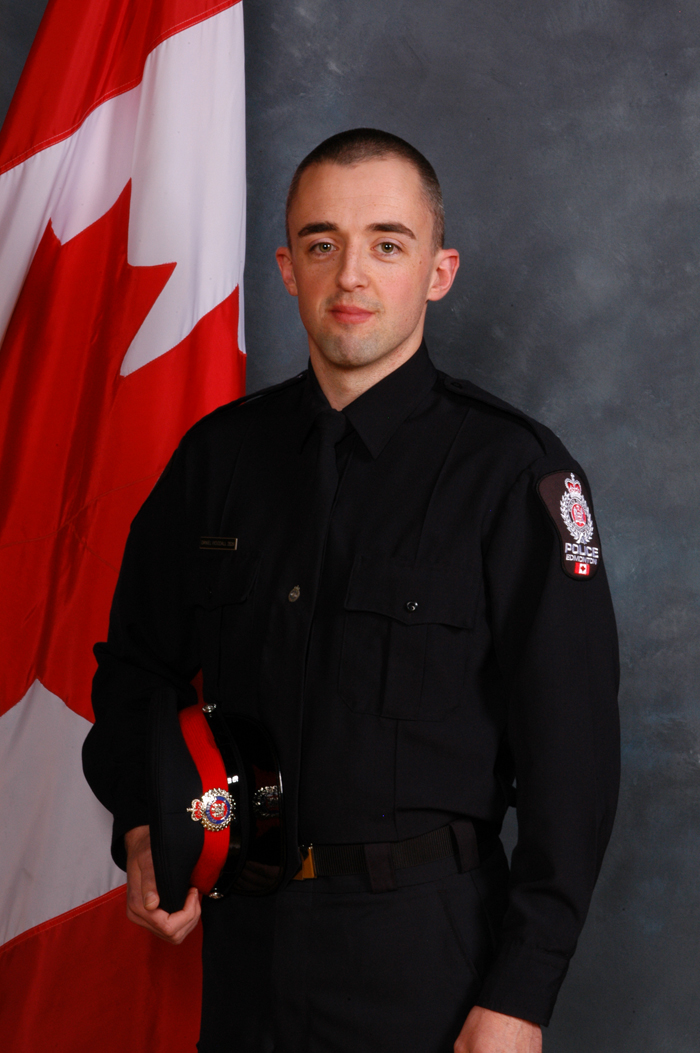 Constable Daniel Woodall, 35, was shot and killed in the line of duty on June 8, 2015.
Constable Woodall had eight years of experience with the Edmonton Police Service, and four-year's prior experience with the Greater Manchester Police in England.   He graduated from EPS Recruit Class #110 on July 23 2007, and he was currently assigned to the EPS Hate Crimes Unit.  He leaves behind his wife, two children, as well as his parents in Great Britain.
Constable Daniel Woodall's service and sacrifice will be remembered.  He will be greatly missed by his family and friends, members of the Edmonton Police Service, as well as his colleagues in the greater law enforcement community.
The family of Constable Daniel Woodall and the Edmonton Police Service would like to thank everyone for their sympathy and support during this time of tragic loss.
Condolence Books
Condolence books will be set up in the lobby of EPS Division Stations onWednesday, June 10, 2015 at 12 p.m. to provide individuals with an opportunity to pay their respects to Constable Woodall.   People are invited to leave messages of condolence, which will then be presented to Constable Woodall's family.
Messages of condolences can also be emailed tocondolences@edmontonpolice.ca.
Condolence books can be signed during business hours at the following locations:
Downtown Division Station: 9620 – 103A Avenue
Northeast Division Station: 14203 – 50 Street
Southeast Division Station: #104 Youville Drive East
Southwest Division Station: 1351 Windermere Way
West Division Station: 16505 – 100 Avenue
Condolences on EPS Social Media
The Edmonton Police Service supports the public use of the hashtag#EPSstrong.  Please follow the EPS social media accounts for updated information:
Please note that all content sent to EPS is reviewed, and any spam, confidential information, or inappropriate content or links will be removed.