News Release
Look twice for motorcycles
Motorcycles don't have airbags
The warmer weather and blue skies means motorcycle riders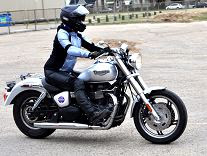 are sharing the road with other drivers. The return of
motorcycles to our streets after winter doesn't always come
with an increased awareness by other drivers. The
Vision Zero Edmonton goal of reaching zero traffic fatalities
and serious injuries means that everyone needs to stay alert.
"Motorcycle riders are more vulnerable to being seriously
injured or killed if they're involved in a collision," said Senior
Research Coordinator Laura Thue, with the City of Edmonton
Office of Traffic Safety. "Look twice before changing lanes to make
sure that no one is in your blind spot. Double-check to see that a motorcycle isn't coming towards you before you turn. A second look
can go a long way towards preventing collisions and saving lives."
In 2016, there were 191 motorcycle collisions in Edmonton, an 8 per cent reduction from 2015. Injuries that required hospitalization were down by 7 per cent. There were three fatalities. Vehicles making left-hand turns across the path of motorcycles account for the most devastating collisions.
"There are no airbags or seat belts on a motorcycle, so it is up to everyone to be extra cautious," said Thue. "Let's watch out for each other. "
The first collision in 2017 involving a motorcycle took place in March.