Stingers persevere under pressure to beat Hamilton
By Stingers Staff Writer: Jason Hills • Jul 30, 2020
Edmonton holds off Hamilton's big comeback attempt to improve to 2-1 in Summer Series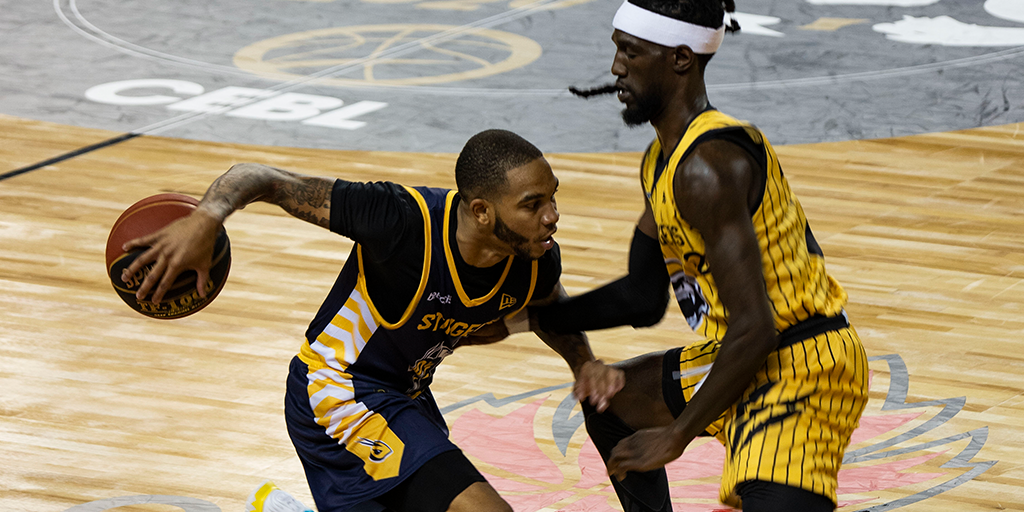 ST. CATHARINES, ON — Fans of the Canadian Elite Basketball League were looking for a dramatic finish to the Elam Ending time in the Summer Series and the Edmonton Stingers gave them exactly what they wanted.
The Hamilton Honey Badgers fought tirelessly to try and close the gap, but Mathieu Kamba and Xavier Moon had other ideas. The two Stingers guards hit back-to-back treys to snuff out the comeback attempt as the Stingers held on to an 88-82, Wednesday night at the Meridian Centre.
Jordan Baker led Edmonton with 17 points, nine rebounds and two steals and Brody Clarke had another strong outing off the bench, chipping in with 14 points and three rebounds.
Duane Notice led Hamilton with 23 points in the loss for Hamilton. Edmonton improved to 2-1 in the Summer Series, while Hamilton dropped to 1-2.
"Elam Ending is tough. You can practice it a lot, but nothing is like game-like situations. They chipped away at it and played tough defence, but we continued to show heart," said Kamba. "I wasn't really hitting my shot and Adika struggled tonight, but we weren't going to quit. I'm a confident shooter. I let it go, and got rewarded.
"With our grit and our grind we were able to hold on the defensive end, and we knew our shots would start to drop."
Edmonton held a 77-66 lead heading into the Elam Ending and needed to reach the target of 86 to win.
Hamilton went on a 14-3 run in Elam time, but a steal and layup from Peter-McNeilly stopped the bleeding. A Jean-Victor-Mukama three-pointer tied the game at 82-82, but the Stingers showed great poise as Kamba and Moon put Hamilton's comeback attempt on ice.
"As much as fans wanted an exciting, that wasn't in our game plan, but I thought we showed some real grit tonight," said Clarke."The real statement we made today was we can handle the pressure. We stuck together down the stretch and our team really believes and trusts each other to finish the job."
The big trio of Baker, Travis Daniels and Clarke dominated the paint in the first half and really took control of the game as Edmonton led by 16 at the half.
Daniels had his best game offensively, of the Summer Series finishing with 13 points.
"Our front court really controlled the game and played a big part in the win tonight," said Stingers head coach Jermaine Small. "We just really wore them down. Jordan is such an awesome rebounder. That collection of 4s and 5s do such a tremendous job for us. "We have five forwards who are all different and they all can contribute something different."
Clarke has provided Edmonton with a big spark off the bench. He's eating up valuable minutes and providing the Stingers with scoring and tough defence through the first three games of the tournament."That's something that Coach Small has harped on with me. I knew coming in I would have some bigger shoes, but I was ready for the challenge and he's been on my case," said Clarke. "Our depth is going to not only keep us healthy down the stretch, but it will make us dangerous offensively. Guys are confident in their roles."
It was a real-team effort in the win for Edmonton. They've built a strong reputation as a blue-collar team on defence, and offensively they rely on everyone to contribute. Their win over Hamilton was a great example as four players scored in double-digits and they got big contributions from some unlikely sources as Zac Overwater scored eight points and Kareem South chipped in with five points off the bench.
"We had so many guys step up tonight and that's what makes us such a dangerous team, said Kamba.
"Guys like Zac (Overwater) and Kareem (South), they've put in the work and have kept pushing and when they got called on tonight, they came through,"
NEXT UP: The Stingers will have Thursday off before they battle the Niagara River Lions at 1 p.m. MT on Friday July 31.