US military donation to boost AFP anti-terror capabilities
By Priam Nepomuceno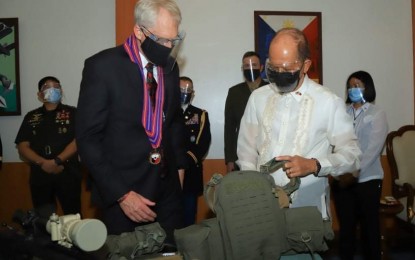 STRONG ALLIANCE. Acting US Defense Secretary Christopher Miller (left) and Department of National Defense Secretary Delfin Lorenzana (right) take a look at the PHP1.38 billion worth of military equipment donated by the US to the Philippines in Camp Aguinaldo, Quezon City on Dec. 8, 2020. The Armed Forces of the Philippines said these equipment will help boost its counter-terrorism capability and thanked the US government for the donation. (Photo courtesy of DND Defense Communications Service)
MANILA (Philippines News Agency) – The United States' latest military equipment donation to the Philippines would help strengthen the Armed Forces of the Philippines (AFP)'s anti-terrorism capabilities.
"The CSAFP (Chief-of-Staff AFP) Gen. Gilbert Gapay, expressed his appreciation and gratitude to the US For the donation of explosive ordnance and demolition equipment as well as the sniper system equipment. These are expected to beef up the counter-terrorism capability of the AFP," Navy Capt. Jonathan Zata, AFP public affairs office chief, said in a message to the Philippine News Agency (PNA) on Friday.
On Tuesday, the US Defense Department turned over PHP1.38 billion worth of military equipment, including snipers' and anti-improvised explosive device equipment, to the Philippines.
Defense Secretary Delfin Lorenzana and Foreign Affairs Secretary Teodoro Locsin Jr. accepted the donation from visiting acting US Secretary of Defense Christopher Miller during a short ceremony held at the Department of National Defense (DND) building in Camp Aguinaldo, Quezon City.
Miller also informed Lorenzana that one C-130 military transport aircraft would be delivered to the AFP on December 17.
Both Lorenzana and Miller have agreed to boost further the military-to-military engagement between Manila and Washington DC.
The US has earlier transferred defense equipment to several special mission units of the AFP to support its modernization goals.
The new equipment will strengthen the AFP's joint precision strike, sniper, riverine, and counter-improvised explosive device capabilities. (PNA)