Reds non-declaration of holiday truce 'immaterial': AFP spox
By Priam Nepomuceno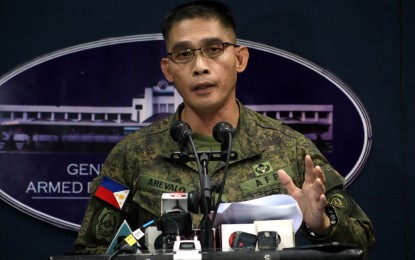 AFP spokesperson, Marine Maj. Gen. Edgard Arevalo. (File photo)
MANILA – Whether the Communist Party of the Philippines-New People's Army (CPP-NPA) declares a ceasefire or not during the Yuletide season is "immaterial", a military official said.
"It's immaterial whether the Communist Terrorist Group (CTG) declares a holiday ceasefire or not. They have been consistently and treacherously violating that after all," Armed Forces of the Philippines (AFP) spokesperson, Marine Maj. Gen. Edgard Arevalo said in a message to reporters late Wednesday.
He was responding to reports saying the CPP will not declare a holiday ceasefire with the government this year.
Arevalo said these pronouncements are much better than hoping that the CPP-NPA will honor its commitment to a ceasefire with the government.
"It's better a barefaced pronouncement such as that than again trust their declaration of a truce hoping that they will honor their word this time," Arevalo, who is also the spokesperson, National Task Force to End Local Communist Armed Conflict (NTF ELCAC) Peace, Law Enforcement, Development and Security (PLEDS) Cluster, added.
Earlier, the CPP urged all NPA units to conduct secret meetings to mark its 52nd founding anniversary on Dec. 26.
The communist terrorists also said they will continue with their harassments during the holiday season since the AFP did not declare a ceasefire this year.
Department of National Defense (DND) Secretary Delfin Lorenzana earlier said the CPP-NPA probably opted not to declare their own ceasefire after learning that President Rodrigo R. Duterte is no longer interested in one.
The DND chief added that during ceasefires in past years, the CPP-NPA was known to use the opportunity to resupply, refurbish, regroup, and recruit new members in remote villages. (PNA)