By Joyce Ann L. Rocamora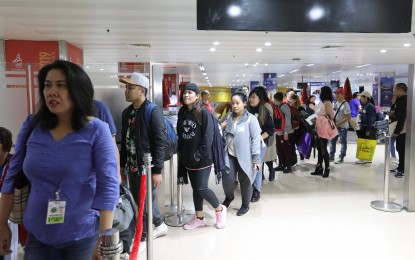 MIGRANT RIGHTS. Overseas Filipino workers arrive at the Ninoy Aquino International Airport (NAIA) in this undated photo. The United Nations (UN) and the Philippine government on Wednesday (Dec. 16, 2020) launched Bridging Recruitment to Reintegration in Migration Governance (BRIDGE), a program seeking to promote the rights of overseas Filipino workers (OFWs). (File photo)
MANILA (Philippines News Agency) – The United Nations (UN) and the Philippine government launched on Wednesday a program that will help promote the rights of overseas Filipino workers (OFWs), particularly in the areas of recruitment and reintegration when they return home.
The two-year program called Bridging Recruitment to Reintegration in Migration Governance (BRIDGE) will be implemented by the Department of Foreign Affairs, the Department of Labor and Employment and other relevant agencies, in partnership with the UN Philippines, the International Organization for Migration (IOM), and International Labour Organization.
In the Philippines, OFWs face challenges that start from their recruitment and deployment until their return and reintegration into the Philippines labor sector.
According to UN Philippines, forced labor or involuntary work remains to be a challenge for migrant workers both for the Philippines and on a global scale.
OFWs have reported difficulty to reintegrate or to find work in the country, mostly due to a mismatch between the skills they acquired abroad and available jobs in the country when they return.
UN Resident Coordinator Gustavo Gonzalez is hopeful this "whole-of-society" initiative will address these issues and provide decent work and social justice for all workers, including migrant workers.
Foreign Affairs Secretary Teodoro Locsin Jr. said the BRIDGE program likewise aims to bring a positive effect on human mobility.
"This will be done by translating our four decades worth of experience–good and bad– to improve migration policies and practices," he said during the virtual launch of BRIDGE program.
Due to large scale job losses brought by the economic impact of the coronavirus disease 2019 (Covid-19), a multitude of OFWs were forced to return home in 2020.
Data from the UN Philippines showed that as of December 11, some 707,186 Filipinos returned to the country, of whom 300,000 are OFWs.
"In this context, BRIDGE also seeks to equip and strengthen the approach by Government and civil society towards effective reintegration frameworks and services that is tailored to the Covid-19 context," Gonzales said.
The governments of Cyprus, Denmark, France, Germany, Mexico, Norway, Portugal, Sweden, Thailand, Turkey, and the UK are providing support to the BRIDGE program.
On the area of recruitment, IOM Chief of Mission in the Philippines Kristin Dadey said the UN agencies will be working with DOLE to strengthen capacities and implement ethical policies for recruitment, such as abolishing fees paid by overseas Filipinos that are associated with migration.
"Of course, there are fees associated with migration, but those fees should be borne by the employer not the migrant," she said in a virtual presser.
She added that IOM will increase engagement with the Philippine government to help ensure that reintegration is taken into account in its policies. (PNA)