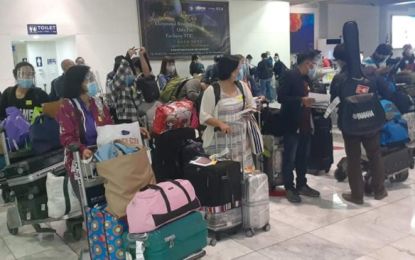 OFWS FROM CAMBODIA. A total of 38 distressed overseas Filipino workers return from Cambodia on Dec 19, 2020. The government has so far facilitated the repatriation of 819 OFWs from Cambodia. (Photo by DFA Philippines)
MANILA (Philippines News Agency) – The Department of Foreign Affairs (DFA) welcomed the arrival of 38 distressed overseas Filipinos from Cambodia on Dec. 19 under the assisted repatriation program of the Philippine Embassy in Phnom Penh in coordination with the DFA's Office of the Undersecretary for Migrant Workers' Affairs.
The Philippine Embassy in Phnom Penh facilitated the repatriation through a commercial flight with Philippine Airlines to bring home this last batch of returning Filipinos from Cambodia for the year.
The repatriates, which include a Filipino infant, are very happy to be home in time for Christmas with their families amidst the coronavirus disease 2019 (Covid-19) pandemic.
With this latest flight, the Philippine Embassy has facilitated the repatriation of 819 overseas Filipinos who have been stranded in Cambodia since the start of the pandemic. (PR)