By Alexander Lopez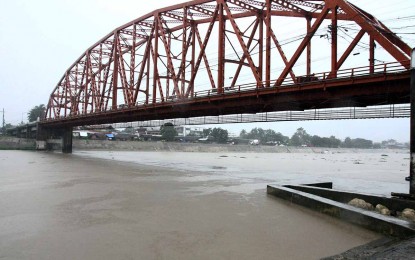 CLOSE MONITORING. The city government of Butuan is closely monitoring the water level of the Agusan River. As of noontime of Sunday (Dec. 20, 2020) the water already subsided to 1.83 meters from 2.01 meters on Saturday. (PNA photo by Alexander Lopez)
BUTUAN CITY (Philippines News Agency)– Tropical Depression (TD) Vicky left six persons dead and displaced over 8,000 families in Caraga over the last two days.
The Department of Social Welfare and Development in Caraga (DSWD-13) said a total of 8,673 families or 34,861 individuals were directly affected by "Vicky" in 140 barangays of the region.
In Surigao del Sur, four persons died due to flooding, Col. James T. Goforth, the director of Surigao del Sur Police Provincial Office (SDSPPO), told the Philippine News Agency on Sunday.
He identified them as Nilo Lagura from Barangay Quirino in Madrid town; Tropio Bacor from the municipality of Lingig; Elizer Jalapit from Lianga; and Conseno Bongcayao from Tago.
"Based on our monitoring as of Sunday noon, a total of 264 families or 21,478 individuals were directly affected by TD Vicky in Surigao del Sur," Goforth said.
He added that police personnel in different units and stations in the province are still on high alert as clearing operations are ongoing in different towns.
In Agusan del Sur, Armando R. Gomez, the chief of the Provincial Disaster Risk Reduction and Management Office (PDRRMO), said two persons were reported dead due to floods.
Gomez said that an employee of the Provincial Environment and Natural Resources Office (PENRO) died in an accident while crossing a flooded road in Barangay Tagapua, San Francisco, Agusan del Sur on Saturday.
A senior citizen was also reported to have died in Talacogon town.
"As of Saturday evening, the remaining 958 families who evacuated from the different barangays in Agusan del Sur had already returned to their respective homes," Gomez said.
He also said the PDRRMO, in coordination with the Municipal Disaster Risk Reduction Management Offices (MDRRMOs) and other agencies of the government in Agusan del Sur, is conducting 24/7 monitoring especially on the water level of the major river systems in the area.
In Butuan City, the local government said that a total of 636 families or 3,031 individuals from 16 barangays were evacuated to 19 evacuation centers during the onslaught of TD Vicky.
The city government is also closely monitoring the water level of Agusan River which, as of noontime of Sunday, already decreased to 1.83 meters from 2.01 meters on Saturday.
The Department of Public Works and Highways in Caraga (DPWH-13) said clearing operations are being conducted along Tagonon Bypass Road in Bislig City and in Sitio Tandawan, Loyola, Hinatuan, Surigao del Sur.
All other affected major roads in Agusan del Sur are now passable after clearing operations were conducted by the DPWH.
Meanwhile, DSWD-13 said that its Caraga Quick Response Team (QRT) members are continuously rendering 24/7 duty to the Emergency Operations Center (EOC).
"The Field Office of the DSWD in Caraga is ready to provide augmentation assistance to the families affected by the flooding brought by Tropical Depression Vicky," the agency said. (PNA)