By Azer Parrocha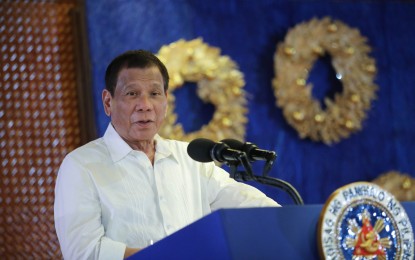 President Rodrigo Duterte (File photo)
MANILA (Philippines News Agency) – President Rodrigo Duterte praised Filipinos for their "indomitable spirit", which according to him, has helped them survive adversity this year.
In his Christmas message, Duterte acknowledged that this year has been a "trying time" for everyone as many lives were lost and changed due to the pandemic and several natural calamities.
However, he cited Filipinos' strength of character which helped them withstand challenges and rise above it all.
"But through it all, we continue to survive and rise because of our unity, strength and indomitable spirit of (the) Filipinos," he said.
Duterte also noted that pain and suffering will not last forever.
"This Christmas season, let the story of Jesus Christ's birth remind us that we should always have hope even in darkness, poverty and suffering," he said.
He also urged Filipinos to remember that Jesus Christ is the reason for the holiday season.
"Let us also allow Christ into our lives so that we could bring love and cheer not only to our families and friends but also to those who are most in need," he added.
In closing, he wished Filipinos a "meaningful" celebration and reminded them to remain hopeful for better days ahead.
Malacañang earlier said that the President will spend Christmas with his family in his official residence in Davao City.
It is the fifth time Duterte will celebrate Christmas in Davao City since he became president in 2016.
During pre-Covid days, Duterte used to celebrate Christmas visiting young cancer patients at the Southern Philippines Medical Center in Davao City.
Roque, however, did not mention Duterte's possible activities on Christmas Day.
This year, Christmas celebrations are expected to be different amid a prevailing global pandemic. (PNA)