By Priam Nepomuceno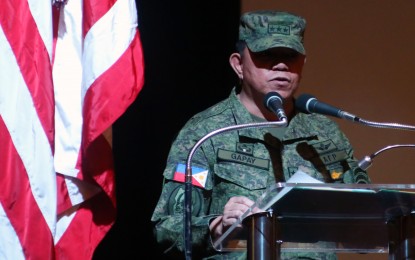 AFP chief-of-staff Gen. Gilbert Gapay (File photo)
MANILA (Philippines News Agency) – The Communist Party of the Philippines (CPP) is in no shape to celebrate its 52nd founding anniversary following a series of political and tactical setbacks, the chief of the Armed Forces of the Philippines (AFP) said.
"The CPP-NPA (New People's Army) and their front organizations have nothing to celebrate. They failed on the ground, got exposed in Congress, and were unmasked abroad for their fake advocacies," AFP chief-of-staff Gen. Gilbert Gapay said in a statement Thursday.
The CPP's anniversary is December 26.
Gapay cited significant accomplishments on the ground and in the political arena, including the recent exposé by former rebels of party-list groups involved in the radicalization and recruitment of individuals to the communist terror group (CTG).
Gapay said tactical accomplishments brought by internal security operations resulted in the death, capture, and surrender of communist terrorists on the ground, as well as the further erosion of their mass base with underground and party members continuing to withdraw their support.
These include the deaths of three CTGs during an encounter with government troops at Pangi, Tandag City, Surigao Del Sur on October 31. Seven firearms were also confiscated from around 40 NPA members who fled the encounter site.
On November 13, the 28th Infantry Battalion also killed in an encounter one terrorist and seized six high-powered firearms against the CTG in Tampilisan, Zamboanga Del Norte.
Five more high-powered firearms were confiscated from the terror group on November 15, this time in Barangay Marayag, Lupon, Davao Oriental.
One communist terrorist was also killed in an encounter with the 31st Infantry Battalion on November 19 in Barangay San Jose, Bulusan, Sorsogon.
Six high-powered firearms were captured at the encounter site.
One CTG was killed when the 3rd Special Forces Battalion encountered around 30 NPAs in Marihatag, Surigao del Sur on November 28. Five high-powered firearms were also captured from the fleeing terrorists.
On December 2, joint law enforcement operations at Barangay Ned, Lake Sebu, South Cotabato resulted in the death of five CTGs who resisted arrest.
Found in their possession are four assorted firearms and anti-personnel mines (APM).
Meanwhile, the 25th Infantry Battalion in an encounter with around eight CTGs in Barangay Sto Niño, New Corella, Davao Del Norte on December 12.
One NPA was killed and another wounded. Government forces also captured seven high-powered firearms from the fleeing communist terrorists.
Meanwhile, four communist terrorists were killed in an operation launched by the AFP in Rizal, Occidental Mindoro on December 14.
Eight firearms were also confiscated from the CTGs. Another joint law enforcement operation also led to the death of five NPA members who fired upon government troops while being served an arrest warrant in Baras, Rizal on December 17.
Five firearms were also seized from the suspects. Another communist terrorist was also killed in an encounter against troops of the 3rd Special Forces Battalion on December 18 in Prosperidad, Agusan del Sur.
Found in the encounter site were five firearms, APMs, and assorted ammunition.
Most recently, troops of the 8th Infantry Division encountered around 60 communist terrorists in Barangay Happy Valley in San Isidro, Northern Samar.
This resulted in one terrorist dead, suspected to be the notorious front secretary in the area, and the confiscation of five high-powered firearms.
Aside from their mass base and main fighting units, Gapay said the group also continues to suffer setbacks with the neutralization of CPP ranking personalities.
These include Julius Giron, Chairman of CPP/NPA, and Head of the National Military Commission; Agaton Topacio Staff National Military Commission, CPP; Eugenia Magpantay-Topacio, Head National Education Department; Teresita Lapuz Naul, Secretary, Regional White Area Committee, North Central Mindanao Regional Committee; and Alvin Luque, Spokesperson of Komisyong Mindanao.
"We have decisively won the war against the CTG in various regions of the country with the dismantling of 10 so-called guerilla fronts or gangster of the CPP-NPA. These are located in Isabela province and Bicol region in Luzon; Leyte and Samar in the Visayas; and various provinces in Western, Southern, and Eastern Mindanao," AFP spokesperson Marine Maj. Gen. Edgard Arevalo said in a year-end briefing on December 22.
Tactical accomplishments also resulted in the overall decline in NPA-initiated atrocities against civilians from 113 in 2019 to 78 so far this year.
"The CPP-NPA is in a political and tactical crisis given the high impact accomplishments of our troops both on the ground and at the General Headquarters. Paired that with the highly developed capability and equipment of our fighting units, there is nowhere else to go but down for the enemy," Gapay said.
The CPP-NPA is listed as a terrorist organization by the United States, European Union, the United Kingdom, Australia, Canada, New Zealand, and the Philippines. (PNA)