By Ferdinand Patinio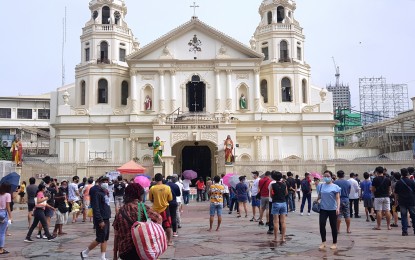 (File photo)
MANILA (Philippines News Agency) – The Archdiocese of Manila urged the people to hold on to hope as the world welcomes the year 2021.
"We hold on to hope as we enter the new year of 2021 – hope for a cure to the virus that is transparent and equitable, hope for a no-nonsense response to the climate emergency that is upon us, hope for respect to human rights and human life for everyone," said Manila Apostolic Administrator Bishop Broderick Pabillo in his New Year's message.
Pabillo said the faithful should not only hope for a vaccine but also look after the welfare of the people and the environment.
"Let our attention not only be focused on the coronavirus and its various strains. The climate emergency is still upon us. The new lifestyle that the new situation calls us should reject unbridled commercialism and the throw away culture," he said. "It should be more caring for the earth. Human rights should also not be set aside. There cannot be a better future if human rights and human life are not respected and valued."
He said there is also a glimmer of hope for 2021 on the horizon since "everybody is speaking of the vaccine and how it can be effectively delivered to all, first and foremost, to the front liners and the vulnerable."
"The greeting is Happy New Year not only because we want this day to be happy but we truly hope that the whole year of 2021 will bring happiness and joy. We truly hope. Every New Year is a harbinger of hope. We especially need this hope in the face of the unexpected turn of the year 2020. Whoever expected at the start of the year 2020 that our world would be radically changed by this time?" he added.
Pabillo said another glimmer of hope are the voices calling for more solidarity, more fraternity, and more cooperation that are sounding ever stronger. We should not just dream of going back to the pre-Covid-19 days.
"We should come out of this global crisis with greater solidarity and fraternity among all peoples that is shown in greater cooperation, rather than competition that leaves the vulnerable behind. Pope Francis' encyclical Fratelli Tutti calls for this," he added.
Pabillo also urged people to continue working for change.
"The change that we all dream will not come abruptly nor quickly. Let us all work for it. We continue to pray to ask for God's help and mercy. We continue to follow the necessary health protocols to protect each other from infection from any strain of the coronavirus." (PNA)