By Edwin Fernandez and Noel Punzalan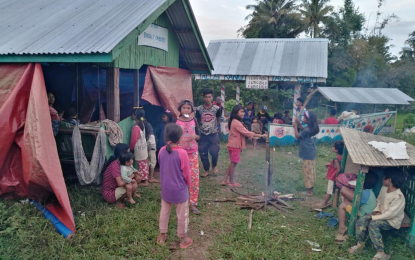 EVACUEES. Some of the displaced families who left their homes in Barangay Itaw, South Upi, Maguindanao following the harassment by BIFF gunmen in their village on New Year's Day. The evacuees have started returning home Monday (Jan. 4, 2020) after military troopers have been detailed in the area. (Photo courtesy of Radio DXUP FM)
CAMP SIONGCO, Maguindanao (Philippines News Agency)– Military authorities have blamed the Daesh-inspired Bangsamoro Islamic Freedom Fighters (BIFF) in the ambush of a town mayor Sunday and the recurring harassment against Indigenous Peoples (IP) communities in South Upi, Maguindanao.
Lt. Col. Anhouvic Atilano, speaking for the Army's 6th Infantry Division, said Monday the BIFF was behind the harassment of civilian communities in Barangay Itaw, South Upi, and the ambush of town Mayor Reynalbert Insular, who emerged unscathed.
During the ambush, a hitchhiker identified as Thelmo Divinagracia Sasi, was killed while three others — King Sasi, John Andro Tumbaga, and Pao Dalimbang — were injured in the 2 p.m. ambush in Barangay Pandan, South Upi, Maguindanao.
"The BIFF wanted to grab the ancestral lands of the Teduray people in Barangay Itaw," Atilano said in a phone interview.
He said five BIFF combatants were killed when two attack helicopters fired rockets and machine gun at the fleeing BIFF after the ambush.
"Elements of 57th Infantry Battalion extracted the ambush victims at the site while artillery fires were launched against the attackers," Atilano said.
A resident said the slain gunmen were taken by their fleeing comrades as they rushed toward the upland communities of Datu Saudi Ampatuan and Talayan, also in Maguindanao.
Insular said he and the town's disaster risk reduction and management council went to Barangay Itaw Sunday morning to extend relief aid to some 599 families affected by the BIFF harassment on Jan. 1.
"We are already returning to the town center when the ambush took place, I thank the military for responding quickly that save our lives," Insular said.
He requested the deployment of peacekeeping troops in Barangay Itaw to prevent similar harassment in the future.
The displaced families have started to return home Monday morning, Insular said. (PNA)