By Benjamin Pulta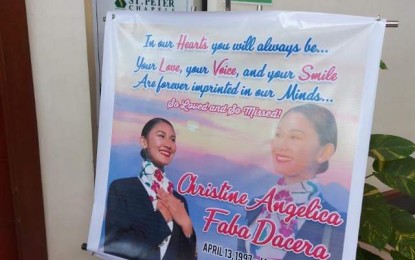 (File photo courtesy of PTV Davao)
MANILA (Philippines News Agency) – The Philippine National Police (PNP) sought to reset the preliminary investigation of the case of flight attendant Christine Angelica Dacera, prosecutors said on Wednesday.
In a press statement, the Makati City Prosecutor's Office said the next hearing is scheduled on Jan. 27, after police investigators are still waiting for the results of forensics tests on Dacera's body such as DNA analysis, toxicology/chemical analysis, histopathology examination, and laboratory results from the Makati Medical Center.
Meanwhile, seven of the 11 respondents attended the preliminary investigation. Out of the seven, only five submitted counter-affidavits.
The PNP also submitted a supplemental complaint of the investigating police officers.
On Tuesday, Justice Secretary Menardo Guevarra said forensics experts from the National Bureau of Investigation (NBI) have recovered 100 milliliters of urine from the second autopsy on the remains of Dacera, which he said may help uncover the circumstances behind her death.
Dacera was found dead in her hotel room in Makati City around noon on Jan. 1, after a private New Year's Eve party with her friends.
The initial autopsy conducted by the Southern Police District's Crime Laboratory Office on Dacera has ruled the cause of her death as "ruptured aortic aneurysm".
Dacera was laid to rest in her hometown in General Santos City on January 10. (PNA)