By Marita Moaje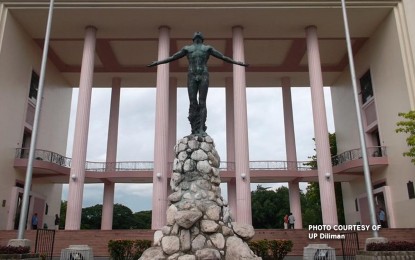 MANILA (Philippines News Agency)– University of the Philippines (UP) students and alumni should thoroughly read the 1989 Department of National Defense-UP accord before reacting to the issue on its abrogation, a UP alumnus said on Wednesday.
"Nabasa ba ninyo ito? Kung nabasa ninyo, anu-ano ba'ng mga napagkasunduan talaga ang napawalang-bisa sa pagkaka-abrogate nito ni Secretary (Delfin) Lorenzana (Have you read this? If indeed you have already read it, which terms of the agreement are being terminated by virtue of the abrogation of Secretary Lorenzana?)," UP alumnus and Yes for Peace convenor Ernie Alcanzare said in an open letter.
Alcanzare was reacting to protest rallies by different groups, students, and members of the UP community in the wake of the announcement of its revocation.
He said it seems that everything written in the "agreement" is the same policy being implemented in all state colleges and universities in the country.
"Kung ipinawalang bisa man ni Secretary Lorenzana ang "Agreement", ano ba talaga ang mawawala sa kalayaan ng mga taga-UP? Meron ba? (If Secretary Lorenzana terminates the 'agreement', what is being lost in the UP community's freedom to express? Is there anything?)," he said.
Alcanzare urged his fellow scholars to look closely and study the issue before reacting.
Alcanzare also reacted to UP President Danilo Concepcion who said "academic freedom (is) the freedom to think, to probe, to question, to find and propose better solutions."
He floated the question about which provisions of the agreement can be said to "attack" academic freedom.
"Meron ba talaga o naunahan lang tayo ng anti-government propaganda? (Is there anything or were we overwhelmed by anti-government propaganda?)," Alcanzare said.
He said any recommendation should be based on the 'agreement' itself.
If the UP community has drafted any recommendations, Alcanzare said it is better for them to put their suggestions forward.
"Kung meron man, pakilatag nga at huwag mga slogans lang ang sinasabi ninyo. Hindi educational. Baka deceiving pa nga dahil hindi na naman kayo nakaapak sa lupa at nakasandal sa katotohanan (If there is, kindly lay them out instead of using slogans. That is not educational. It may even be deceiving because you are not grounded and it's not based on the truth)," he said.
However, Alcanzare clarified that he does not oppose the request of Concepcion to Lorenzana to reconsider his decision in abrogating the agreement.
Yes for Peace – Bayanihan Para sa Kapayapaan is an organization that pushes for peace and education campaigns to establish a national consensus to serve as the basis of open and multi-lateral peace talks between the government and all armed revolutionary forces as well as the political opposition in the country.
Lorenzana earlier welcomed Concepcion and some senators' call for a dialogue regarding the termination of the 1989 agreement that prohibits state forces from entering the university campuses without prior notice. (PNA)