By Azer Parrocha and Joyce Ann L. Rocamora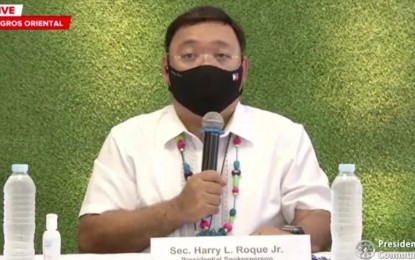 Presidential Spokesperson Harry Roque. (Screengrab from RTVM)
MANILA (Philippines News Agency) – The first batch of China's Sinovac Biotech vaccines will arrive in the Philippines on Sunday (Feb. 28), Malacañang said on Thursday.
Presidential Spokesperson Harry Roque said a total of 600,000 vaccine doses donated by the Chinese government to the country will be delivered on Sunday.
"Tatlong tulog nalang po parating na po ang bakuna. Inaasahan na darating sa araw ng Linggo ang Sinovac, kaya excited po na tayong lahat (Just three more nights until the vaccine arrives. We expect Sinovac to arrive this Sunday that's why we're all excited)," he said in a press briefing from Pamplona, Negros Oriental.
Roque said government officials will personally witness the arrival of the China-made vaccines.
"Inaasahan po, at least, ang pinapalano natin, ay sasalubungin ng mga opisyal ang pagdating ng mga bakuna. Maraming salamat muli sa Sinovac at Tsina dahil sa parating na paunang bakuna para sa mga Pilipino (We expect or plan to have officials welcome the arrival of vaccines. Thank you again Sinovac and China for sending us Filipinos the first batch of vaccines)," he said.
He said the immunization drive can start on March 1 should the China-made vaccines arrive as scheduled.
The Food and Drug Administration (FDA) recently cleared the Sinovac vaccine for emergency use. However, Sinovac is not recommended for healthcare workers and senior citizens due to its 50 percent efficacy rate.
Sinovac is the third vaccine brand to receive emergency use authorization (EUA) after Pfizer and AstraZeneca vaccines.
Priority list
Frontline healthcare workers, particularly employees from the University of the Philippines-Philippine General Hospital (UP-PGH), are supposed to be the first in line to be inoculated with vaccines.
However, since the FDA has not recommended its use for medical front-liners, Roque said he would still have to coordinate with officials of the UP-PGH, one of the Covid-19 referral hospitals in Metro Manila.
UP-PGH Director Dr. Gerardo Legaspi, for his part, reiterated that 94 percent of healthcare workers and non-medical personnel have signed up to be inoculated but with a Pfizer vaccine.
He said the initial survey conducted by UP-PGH last January showed a 75 percent acceptance rate for receiving vaccines regardless of brand.
"We are trying to manage the understanding of the EUA given for Sinovac. Over the next few days, kailangan natin i-thresh out ang ibig sabihin ng statement ng FDA na mas magiging very useful for our healthcare workers to make their decision (we need to thresh out the meaning of FDA's statement that it will be useful for healthcare workers to make their decision)," he said.
Earlier, Legaspi said that UP-PGH spokesperson and Covid-19 survivor Dr. Jonas del Rosario will be among the first medical front-liners to be inoculated once a vaccine arrives in the country.
Roque also assured that medical front-liners will not be forced into receiving jabs from Sinovac and still have the option to wait for the vaccine brand they prefer.
"Wala pong pilitan. Yung gusto mag-antay nga po ng ibang brand siguro, ang concession na maibibgay sa kanila is puwede sila humindi at puwede sila mag-antay without losing their priority kasi 'yan naman ang nakasulat sa EUA. Pero masusunod naman po yung order of priority (We won't force them. For those who want to wait for another brand, the concession we can give them is they can decline and can wait for a brand they prefer without losing their priority because that's written in the EUA. But we will still follow our order of priority)," he added.
Meanwhile, Chinese Ambassador to Manila Huang Xilian said both the Chinese and Philippine governments are "working round the clock" to facilitate an on-time delivery on Sunday.
"It is a fine tradition between China and the Philippines to help each other in trying times. A friend in need is a friend indeed," he said.
He said this serves as a testament to the "solidarity as well as profound friendship and partnership" between the two nations.
"I want to thank all those who have worked so hard in order to make this happen! I hope the vaccines will help kick off the Philippines' mass inoculation campaign to curb the pandemic and allow Filipinos' life to return to normal at the earliest," he said.
"Our friendship and partnership amid this pandemic will continue to grow and prosper as we fight against the pandemic hand in hand," he added.
The donation is part of the commitment made by Chinese State Councilor and Foreign Minister Wang Yi to support Manila's pandemic response when he visited the country in January 2020.
The Department of Foreign Affairs earlier assured that Manila's vaccine transactions with China and other foreign partners are not tied to any consideration and are at best a sign of goodwill. (PNA)