By Joyce Ann L. Rocamora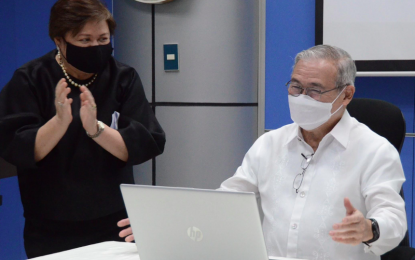 APOSTILLE APPOINTMENT. Foreign Affairs Secretary Teodoro L. Locsin Jr. (right) tries out the online Apostille Appointment and Verification System with the assistance of Assistant Secretary for Consular Affairs Ma. Theresa P. Lazaro (left). The DFA has formally launched on Tuesday (March 9, 2021) the new system that would allow applicants who wish to submit their documents for authentication at DFA Aseana to register for an appointment online. (Photo by DFA-OPCD Vanessa Ubac)
MANILA (Philippines News Agency)– The Department of Foreign Affairs (DFA) has formally launched on Tuesday a new system that would allow applicants who wish to submit their documents for authentication at DFA Aseana to register for an appointment online.
The online Apostille appointment and verification system would be available to applicants beginning March 9 and may be accessed at http://dfa.gov.ph/apostille-appointment.
The DFA said by April 2021, applicants may also register online for authentication appointments at select Consular Offices nationwide.
Since the Philippines' accession to the Apostille Convention in May 2019, applicants who need to submit Philippine documents abroad will only need to apply for an Apostille certificate instead of having the documents authenticated in the foreign embassy or consulate.
Once the document is issued an Apostille certificate, the applicant may submit the document directly to the concerned party, phasing out the "red ribbon" certificate.
"Authentication services are crucial for the Filipino public, particularly our OFWs and students abroad. It is for them that we continue to think of ways to do things better and make their lives a bit easier," Foreign Affairs Secretary Teodoro Locsin Jr. said.
Undersecretary for Civilian Security and Consular Affairs Brigido Dulay, meanwhile, described the new system as a "concrete, tangible and self-evident example" of how the DFA strive to deliver consular services in an effective, efficient and timely manner.
The step-by-step process of using the newly-launched online Apostille Appointment and Verification System may be viewed here: https://bit.ly/2POySaT
Those who wish to know more about Authentication through Apostille may check https://tinyurl.com/DFAApostilleAuthentication.
For DFA's Authentication services and which Consular Offices offer the service may visit the consular website athttps://consular.dfa.gov.ph/services/authentication/authentication-general-info. (PNA)