By Ruth Abbey Gita-Carlos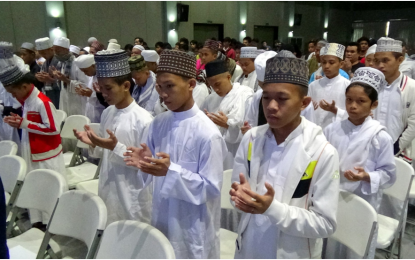 (File photo)
MANILA (Philippines News Agency) – President Rodrigo Duterte expressed hope on Tuesday that the holy month of Ramadan would bring peace and prosperity despite the pressing challenges the country is currently facing.
Duterte issued the message, as he joined the Muslim community in observing Ramadan amid the coronavirus disease 2019 (Covid-19) pandemic.
"It is my hope that we can all move forward with courage, hope, and optimism as the blessings of Ramadan bring peace and prosperity to the entire nation," he said in his Ramadan message.
The start of Ramadan, the holiest month for the Muslim faithful, falls on April 13.
For the entire month, Muslims fast and offer prayers every day from dawn to sunset.
Duterte hopes that fasting during Ramadan, one of the five pillars of Islam, would remind everyone of the "value of sacrifice, obedience, and charity in our daily lives."
"The entire nation joins our Muslim sisters and brothers as we commemorate the revelation of the Quran to the Prophet Mohammad," he said. "In the name of Allah, the Most Gracious, the Most Merciful, may peace, mercy, and blessings be upon you all on the holy month of Ramadan."
Duterte also called on Filipino Muslims to promote solidarity among all Filipinos by manifesting faith through action and by fostering peace, hope, and unity, as the country deals with "the most challenging of times."
"Let us all come together and channel the spirit of Ramadan by helping those who are less fortunate and most in need," Duterte said.
Time of contemplation, reflection
Presidential Communications Operations Office Secretary Martin Andanar, in a separate message, said the occasion calls for a "time of contemplation and reflection."
Andanar said Ramadan serves as a solemn period for the Muslim community to revisit the revelations of Allah with renewed faith and commitment.
"May Allah's holy teachings be a guiding light for our fellow Muslims towards leading a life of purity and clarity," he said.
Andanar is also optimistic that Filipino Muslims would seek unity and peace for an "equitable and inclusive society."
"May this also be a time to foster even further, unity, peace, and solidarity among our fellowmen especially at this time when we are enduring the impacts of Covid-19," Andanar said.
Andanar also reminded the Muslim faithful to continue following the minimum health standards as they observe a "solemn, blessed, and safe" Ramadan. (PNA)