By Azer Parrocha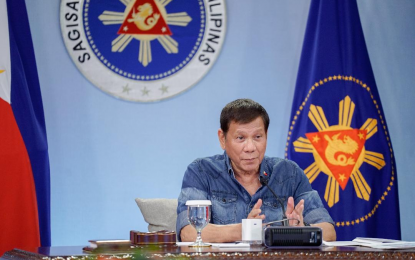 DESERVED TO BE IN JAIL. President Rodrigo Duterte delivers his talk to the nation in Malacañang on Monday night (April 12, 2021). He said Senator Leila de Lima deserved to be in jail since she insulted the country by allowing illegal drugs to proliferate when she was still justice secretary. (Presidential photo by King Rodriguez)
MANILA (Philippines News Agency) – President Rodrigo Duterte on Monday night said the Philippines would have turned into a narco-politics state had he not launched his administration's aggressive crackdown on illegal drugs.
Duterte made this declaration after lambasting detained Senator Leila de Lima for her remark about Senator Christopher "Bong" Go allegedly "covering up" for him while he was out of the public eye last week and "misleading" Filipinos on his true capacity to lead.
He denied that he was covering up anything, saying he was busy reviewing papers at Malacañan Palace.
The President later spewed verbal attacks against De Lima for her supposed role in the drug proliferation inside the national penitentiary during her stint as justice secretary.
"This Leila de Lima. Stop covering for what? For what crime? For what — ? Iyong pinasukan mo pa 'yong makakasira ng bayan natin (What you entered into could destroy our country)," he said in a pre-recorded public address.
Duterte said de Lima deserved to be in jail since she insulted the country by allowing illegal drugs to proliferate under her watch.
"Eh tama 'yan sa iyo. Magtiis ka. P***** i** mo. Binastos mo ang Pilipinas ng droga diyan mismo sa national penitentiary. Ngayon sige ka yawyaw diyan kung ano-anong pinagsasabi mo na hindi ko kaya (You deserve being in jail. You insulted the Philippines with drugs in the national penitentiary. Now you keep talking saying that I can't lead the country)," he said.
He said the people who voted for him as president are testament to his capacity to lead.
"Did you elect me as President? I got my votes, substantial one, to make me a credible president, six million 'yan (that's six million)," he said.
He said de Lima was simply "angry" about his winning the 2016 presidential elections and his administration's accomplishments in fighting the illegal drug trade.
Duterte added that de Lima's "mad desire to be president" pushed her to "ask money from everybody."
"Galit ka lang kasi naging Presidente ako. Galit ka lang kasi ako may ginawa ako sa bayan. Galit ka lang kasi ako hindi ako pumayag na itong bayan ko pupunta sa aso (You're just angry because I became President. You're just angry because I did something for our country. You're just angry because I did not allow our country to have gone to the dogs)," he said.
Had he not been elected, Duterte said the country would have turned into a narco-politics state.
"Galit ako kasi ang mga anak natin hindi ako papayag na magiging narco-state tayo. Galit ako dahil kung wala akong ginawa (I'm angry because I won't allow our children to live in a narco-state. I'm angry because if I didn't do anything), we would have been a narco-politics state," he said.
Sow intrigue
He branded de Lima's remark as an attempt to sow intrigue.
"Hindi mo kaya 'yan. Iyong ginawa ko hindi mo kaya, sa totoo lang. Hindi mo talaga kaya. Naghahanap ka lang ng isyu (You can't do what I do, to be honest. You're just looking for an issue)," he said.
Duterte said it does not matter if de Lima would eventually be freed since people are aware of her faults.
"You can be freed for all I care. But people know that you are a b****, that's what you are," he said.
De Lima has been detained at the Philippine National Police Custodial Center at Camp Crame in Quezon City since February 2017 for drug charges.
The government has insisted that de Lima is facing drug-related charges due to her supposed role in the drug proliferation inside the national penitentiary when she was justice secretary. (PNA)