By Ruth Abbey Gita-Carlos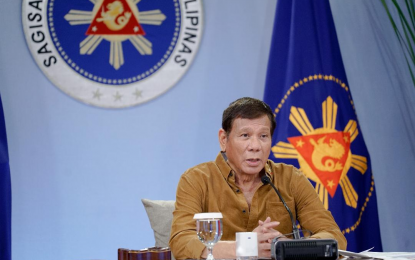 TALK TO THE PEOPLE. President Rodrigo Roa Duterte talks to the people after holding a meeting with the Inter-Agency Task Force on the Emerging Infectious Diseases (IATF-EID) core members at the Malacañang Golf (Malago) Clubhouse in Malacañang Park, Manila on Thursday (April 15, 2021). Duterte took a swipe at people who disagree with the use of Covid-19 vaccines. (Presidential photo by King Rodriguez)
MANILA (Philippines News Agency)– President Rodrigo Duterte on Thursday took a swipe at people who disagree with the use of vaccines against the coronavirus disease 2019 (Covid-19).
In his taped public address, Duterte lamented that there are still people who tend to ignore the risks of not receiving Covid-19 vaccine shots.
"We are facing a turmoil not only in the Philippines but in the entire world," Duterte said. "May mga iba diyan na ayaw talaga magbakuna, eh 'di okay na lang 'yan sa akin. Ang problema kung makahawa ka (Some do not want to get vaccinated. That's fine with me. The problem is they might be the reason to infect others).
He said it is not the time to be arrogant, stressing that Covid-19 is an "enemy that cannot be seen."
"The problem with being a bravado, 'yang hambog, sabihin mo 'Eh ayaw ko kasi hindi naman ako naniniwala diyan.' If I were to talk to you in the gutter language, sabihin ko sa iyo, 'p***** i** mo, mamatay ka na kung gusto mo limang beses, ang problema ang mahawa mo (The problem with being a bravado, being an arrogant, you will say 'I don't like because I don't believe in it. If I were to talk to you in the gutter language, I will tell you, 'Son of a b****, you can die five times, but how about the others that you might infect)?' he said.
Duterte said he could not stomach to see more Filipinos struggling because of getting infected with Covid-19.
He made the statement, as he emphasized that the Philippines is not exempt from the threat posed by the coronavirus.
Duterte said Covid-19 "seems to be virulent and ready to take the civilization of mankind."
"The Philippines is not an exception. We are not the favored few under this planet Earth. Ang problema (The problem) is that there is once in a while in every generation there's a pandemic," Duterte said.
He, however, told the public not to be afraid, assuring them that the government is on top of the situation.
"So kayong mga kababayan ko, huwag kayong matakot diyan sa ano. Hindi naman tayo talagang walang-wala eh (So to my fellow countrymen, do not be afraid of the [coronavirus]. We are not lacking). We are not really at a total loss of what to do. We know what to do," Duterte said.
The Philippines has so far secured around 2.5 million Covid-19 vaccine doses from China's Sinovac Biotech and 525,600 vaccines from United Kingdom's AstraZeneca.
As of April 13, the Philippines has administered around 1,255,716 vaccines against Covid-19, according to the latest data released by the government.
A total of 1,093,651 people have received the first jab while 162,065 have been fully vaccinated after getting their second shot. (PNA)