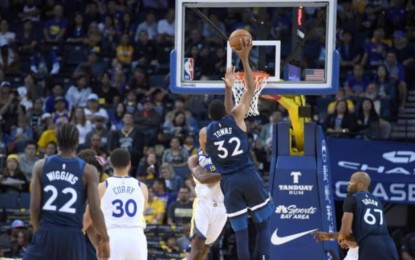 NBA-PH PARTNERSHIP. The Tanduay name and logo are seen on the goal post during a National Basketball Association (NBA) game in Chase Center, California in this undated photo. The Philippine rum maker has deals with five NBA teams, the latest of which is with the Phoenix Suns. (Screengrab)
MANILA (Philippines News Agency)– Leading Philippine rum maker Tanduay recently entered into a partnership with National Basketball Association's (NBA) Phoenix Suns, making it the first Philippine company to simultaneously sponsor five NBA squads.
Tanduay previously inked partnerships with the Minnesota Timberwolves and Milwaukee Bucks early this year.
It also has existing deals with the Golden State Warriors and the Brooklyn Nets.
"As we expand our business worldwide, we create partnerships with organizations that share our passion for excellence. We are confident that the NBA is a significant venue to grow our brand awareness in Arizona and beyond," Tanduay president and COO Lucio Tan III said in a news release.
Tan said they are "looking forward to bringing our Philippine-made products to more cities in the United States."
Phoenix Suns chief revenue officer Dan Costello said they have over 500,000 Filipino fans on social media who engage with and love the team.
"We have heard so much about the craftsmanship that Tanduay, a heritage brand from the Philippines, uses to develop its products. We are thrilled to be aligned with another world-renowned brand with rich history," Costello said.
"We are excited to bring a beloved Filipino brand into the Phoenix market to continue to connect the Suns to our fans in the Philippines and around the world," he added.
In 2017, Tanduay was declared the world's number one rum by Drinks International magazine.
From a distillery in Hagonoy, Bulacan, it has changed ownership throughout the decades and has been under the Lucio Tan Group of Companies, Inc. since 1988. (PR)