By Ivan Stewart Saldajeno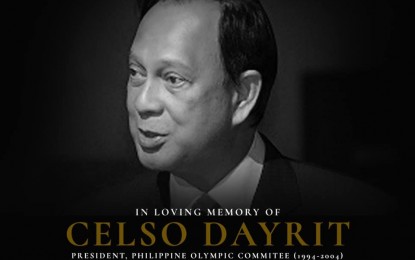 Photo from Philippine Olympic Committee website
MANILA (Philippines News Agency)– The entire Philippine sports community is in deep sadness after it was confirmed on Thursday that Celso Dayrit, one of the former top leaders in sports, passed away due to complications stemming from the coronavirus disease 2019.
He was 70 years old.
Dayrit served as the president of the Philippine Olympic Committee (POC) from 1994-2004 and was among the brains behind the Philippine SEA Games Organizing Committee (PHILSOC) which was tasked to hold the 2005 SEA Games in Metro Manila and various cities outside of the region.
"It is a big loss to us in the sports community and to me personally, as one of my mentors," said current POC president Rep. Abraham "Bambol" Tolentino.
Tolentino, also the president of cycling, added that Dayrit was "a big help to me in foreign relations especially in the Southeast Asian Games Federation."
"He always gave me advices. I will surely miss him," Tolentino further said.
Under Dayrit's watch, the Philippines scored a silver medal in the 1996 Summer Olympics in Atlanta through boxer Mansueto "Onyok" Velasco.
"I am filled with immense sadness at Cito Dayrit's passing. He was a friend and valued adviser and I relied on his professionalism, vast knowledge and experience and honest point of view," current boxing chief Ricky Vargas said.
After leaving the POC post, Dayrit became a longtime president of the Fencing Confederation of Asia and has remained active in the fencing scene even if he has already vacated the position.
He was also active in various activities of the International Olympic Committee even as he founded the Philippine Olympic Academy and the Philippine Olympians Association.
"Philippine and international sports just suffered a devastating loss," added Vargas, who preceded Tolentino as POC president.
Before taking the POC leadership, Dayrit was a commissioner for the Philippine Sports Commission (PSC).
"Philippine sports lost a wise man today. He is one of my very first friends in sports and I have always admired his deep understanding of olympism and sports dynamics in the country. He will be truly missed," current PSC chairman Butch Ramirez said. (PNA)