By Ferdinand Patinio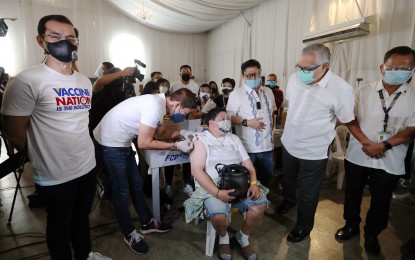 OFW JABS. Manila Health Department chief, Dr. Arnold Pangan (2nd from left), administers the Sinovac vaccine to overseas Filipino worker (OFW) Cristina David, during the simultaneous symbolic vaccination of OFW and minimum wage workers in line with the Labor Day celebration at the Palacio De Manila in Manila City on Saturday (May 1, 2021). Also in photo are Labor and Employment Secretary Silvestre "Bebot" Bello III (3rd from right), Trade and Industry Secretary Ramon Lopez (2nd from right), Technical Education and Skills Development Authority chief Isidro Lapeña (right), and Manila Mayor Francisco "Isko Moreno" Domagoso (left). (PNA photo by Joey O. Razon)
MANILA (Philippines News Agency) – National and local government officials led by Department of Labor and Employment (DOLE) Secretary Silvestre Bello III held the simultaneous symbolic vaccination for 5,000 minimum wage workers and overseas Filipino workers (OFWs) as part of the Labor Day celebration on Saturday in Manila.
The inoculation of local and overseas workers is under the Priority Group A4 of the National Covid-19 (coronavirus disease 2019) Vaccine Deployment Plan.
Bello urged the workers to be vaccinated since it is the best solution to fight Covid-19.
"Please do not avoid the vaccine, this vaccine is the best way to fight Covid. Do not waste this opportunity, it's free, at no charge," he said during the opening of the vaccination program in Manila held at Palacio de Manila.
Of the 5,000, a total of 3,000 OFWs will be vaccinated while 2,000 local workers will be inoculated.
The DOLE has prepared a master list of the vaccine recipients to ensure equitable representation of the labor sector in the simultaneous symbolic vaccination.
Aside from Manila, the other vaccination sites in the National Capital Region (NCR) are Lakeshore Hub in Taguig City, and Quezon City Covered Walk along Elliptical Road in Diliman, Quezon City.
Among those present during the program are Trade Secretary Ramon Lopez, Technical Education and Skills Development Authority chief Isidro Lapeña, and Manila Mayor Francisco "Isko Moreno" Domagoso. (PNA)