By Ma. Teresa Montemayor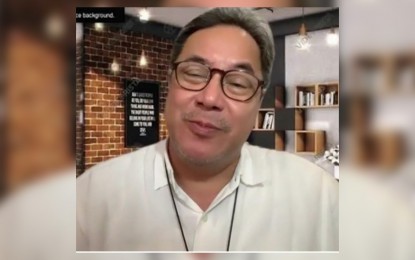 National Task Force Against Covid-19 Special Adviser Dr. Ted Herbosa (screenshot from Zoom meeting)
MANILA (Philippines News Agency)– National Task Force Against Covid-19 Special Adviser, Dr. Ted Herbosa, on Monday said the recent conduct of mass gatherings like community pantries and political rallies could cause the number of cases to plateau and not continue with the downward.
"Tuloy ang pagbaba ng cases dahil sa ECQ pero dahil nag-mass gathering tayo, magpa-plateau iyan maiipit tayo sa 8,000, 9,000 imbis na bumaba to 6,000, 5,000 nalang (The cases continue to decrease due to the enhanced community quarantine but because of the mass gatherings these will plateau at 8,000, 9,000 instead of decreasing to 6,000, 5,000)," Herbosa said during an online media forum.
Citing India's situation, Herbosa pleaded to the public to seriously consider the government's call not to conduct and engage in mass gatherings.
He said the national government is not suppressing their advocacies and rights but is concerned about the health and safety of each Filipino.
"Sa India nakita natin nagbakuna na sila 23 percent ng population nagbakuna na. Pinayagan nila yung religious event na naliligo doon sa mahabang Ganghes River, dikit dikit ang mga tao walang (About 23 percent of India's population got vaccinated. They allowed the religious activity of taking a bath in Ganges River where people crowd without) face mask and they suffered, their cases increased," he said.
Herbosa said the Filipinos should continue to strictly follow the minimum public health protocols particularly wearing of face masks and physical distancing and avoid "super-spreader" mass gatherings.
"Many are holding political rallies, they allowed, similar maybe to the rallies here. Ayun ang nangyari, naubos ang ospital, naubos ang oxygen (The hospitals are now full, their oxygen supply depleted). That is the vivid picture of what can happen to us," he added.
Role of local government units
Herbosa stressed that humanitarian activities like community pantries are allowed but it must be done in proper coordination with concerned local government units and in strict observance of the public health standards.
"The national government can only give the strategy but the implementation depends on the political will of the local government chief as to the coordination and penalizing the local ordinances violated. Ang binibigay ng (What the Inter-Agency Task Force gives) IATF are guidelines, the penalty or fines are imposed by the city ordinance," he said.
Herbosa was reacting to posts urging the local government of Quezon City and the Inter-Agency Task Force for the Management of Emerging Infectious Diseases (IATF-EID) to file charges against Angel Locsin for conducting a super-spreader event where two of its attendees tested positive for Covid-19.
On April 30, the city urged anew those who attended Locsin's community pantry to have themselves tested to ensure the safety of their families and communities.
"Dapat talaga magpatest yun mga pumunta sa birthday party ni Angel Locsin pero kunti lang pumunta para magpatest (All those who went to the birthday party of Angel Locsin should undergo Covid-19 test but only a few did)," Herbosa said. (PNA)