By Ruth Abbey Gita-Carlos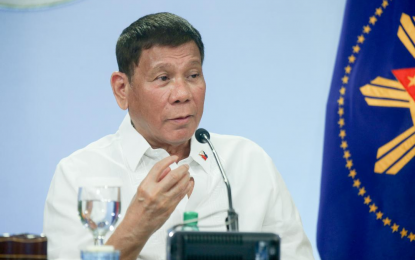 WHOSE PERMISSION. President Rodrigo Roa Duterte talks to the people after holding a meeting with the Inter-Agency Task Force on the Emerging Infectious Diseases (IATF-EID) core members at the Malago Clubhouse in Malacañang Park, Manila on Wednesday night (May 5, 2021). Duterte expressed his intent to launch a probe into the Philippines' withdrawal of its ships in the West Philippine Sea amid the 2012 standoff with China. (Presidential photo by Simeon Celi)
MANILA – President Rodrigo Duterte on Wednesday expressed his intent to launch an investigation into the Philippines' withdrawal of its ships in the highly-contested West Philippine Sea (WPS) amid the 2012 standoff with China.
In his taped public address, Duterte said he wants to personally ask former Supreme Court Associate Justice Antonio Carpio and former Foreign Affairs Secretary Albert del Rosario why they let the Philippines withdraw the Philippine vessels in Scarborough (Panatag) Shoal in 2012.
"Napaalis na ni Albert. Ikaw, Albert, Alberto, bakit mo pinaatras? Kaninong permission ka naghingi? Ngayon kung wala kang maibigay, p***** i** mo, huwag mong ibigay sa akin ýung kasalanan mo (Albert withdrew the ships. Albert, why did you order the withdrawal of ships? Who gave you the permission? Now, if you can't answer me, son of a b***, do not put the blame on me)," Duterte said.
Duterte ensured that he would make time to probe Carpio and del Rosario.
"Noong nag-presidente ako, wala ng barko doon, China lang (Our ships were no longer there when I became the president. Only China ships are there)," he said. "One day, you will be tasked to answer for that. Iyang pag-order ninyo, dapat imbestigahan iyan. (Your order to withdraw ships should be investigated)."
Duterte said he wants to know if his predecessor, former president Benigno Aquino III, allowed del Rosario to withdraw the Philippine ships in Scarborough Shoal.
"Albert called maybe the ship, ordered it to withdraw. The mystery question here is: Was it approved by President Aquino? Siya 'yung president (He's the president at that time)," he said.
On April 28, Duterte blamed the former officials of the Aquino administration, particularly Carpio and del Rosario, for losing the Scarborough Shoal.
Duterte, in his talk to the nation on Monday, said Chinese President Xi Jinping had claimed that Carpio and del Rosario gave the Philippine islands as a "gift" to China.
During the time of Aquino, del Rosario and Carpio led the filing of a petition against China before the Hague-based Permanent Court of Arbitration (PCA).
On July 12, 2016, the Philippines won its case against China after the PCA ruled that China has "no legal basis" to claim historic rights over almost the strategic waters.
Responding to Duterte's remarks, Carpio and del Rosario said it was the Aquino administration that filed and won the case against China.
Del Rosario, in a statement issued on April 29, also recalled that there was an agreement, brokered by the United States, in 2012 for the Philippines and China to withdraw their ships from Scarborough Shoal to resolve the standoff in the area.
He, however, lamented that China "deceitfully breached" the agreement by not withdrawing its vessels.
Waste of time to invoke sea ruling
Duterte, in his latest remarks, said it would be a "waste of time" to invoke the sea ruling in favor of the Philippines.
"Iyang papel, sa totoong buhay between nations, iyang papel, wala iyan (The document showing our victory, in real life, that is nothing between nations)," Duterte said.
Duterte said he had attempted to assert the 2016 ruling, but the Philippines gained nothing.
"Tayo nanalo. Ngayon pagdating ko, ang barko nandiyan sa West Philippine Sea, China ship. Tayo wala na. Tapos sabi nila itong papel sa kaso na nanalo tayo, i-pursue mo. Pinursue ko, walang nangyari (We won. Now, China's ship is still there in the West Philippine Sea when I assumed office. However, we already withdrew ours. And they are convincing me to pursue the ruling. I pursued it but nothing happened)," he said.
Won't beg for UN help
Duterte said he has no plan to beg the United Nations to help the Philippines in its long-standing dispute with China in WPS.
He maintained that he would continue to keep the Philippines' mended ties with China.
"Ipagpatuloy ko raw 'yung away (They want me to continue the fight). You're wasting my time and at the same time disrupting the good relations of China and the Philippines," Duterte said.
China has repeatedly ignored the 2016 sea ruling, while the Philippines has sought to resolve the maritime row through diplomatic approach.
Honor debt of gratitude
Duterte also reiterated that he would continue to honor the Philippines' debt of gratitude to China.
Thus, the Philippines would not initiate a war against China, Duterte said.
"Do you know the dimensions of utang na loob (debt of gratitude)? 'Yung utang na loob, iba 'yung away. Ito para tayong ano diyan ang neighbor nila naghirap, oh tinulungan tayo. So sinabi ko salamat at may utang na loob tayo (An ongoing tiff is a different issue. We are a country that is struggling and China helped us. So I said we are thankful and we have a debt of gratitude)," he said.
On Tuesday, the National Task Force for WPS (NTF-WPS) said the Philippines would continue to defend the Philippines' national interest by conducting law enforcement patrols and maritime exercises in the disputed waters.
The NTF-WPS also assured the public that the government would not abandon its constitutional obligation to "preserve and protect our territorial integrity, and the exercise of our sovereign rights." (PNA)