By Priam Nepomuceno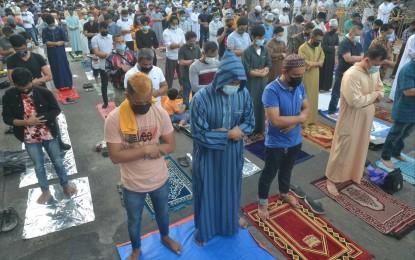 (PNA photo by Robert Oswald Alfiler)
MANILA (Philippines News Agency)– Department of National Defense (DND) Secretary Delfin Lorenzana called the end of the holy month of Ramadan a good opportunity for all Filipinos to unite for peace and prosperity.
"As our Muslim brothers and sisters mark the end of the holy month of Ramadan, we reflect and renew our sense of hope and devotion. Indeed, this celebration is an opportune moment to come together in our collective drive to achieve peace and prosperity for our country," Lorenzana said in a statement as the Muslim faithful celebrates Eid-al-Fitr on Thursday.
Despite the trials caused by the ongoing coronavirus disease 2019 (Covid-19) pandemic, Lorenzana said he is grateful for the compassion and unity showed by Filipinos from all walks of life in caring and helping the less fortunate members of society,
"May the spirit of harmony and understanding according to the teachings of the Islamic faith continue to inspire us all as we work together to heal as one. Eid al-Fitr Mubarak from your One Defense Team! May the mercy and blessings of Allah be upon us!" Lorenzana further said.
Meanwhile, the Armed Forces of the Philippines (AFP) also joined Muslim Filipinos in the celebration of a meaningful and inspiring conclusion to the holy month of Ramadan.
"The pandemic that has persisted in the past year and months have indeed compounded the existing challenges to Filipino Muslim communities here and abroad," AFP chief Gen. Cirilito Sobejana said.
He also expressed hope that Ramadan and Eid-al-Fitr have given Muslim brothers and sisters fortitude and strength, and empowered them to live their best life according to their faith.
"Rest assured that the AFP will continue to stand beside you in all the challenges that will come our way. A solemn and blessed Eid-al-Fitr to all!" Sobejana said.
Share dream of peaceful, progressive country
In his message for the occasion, Philippine National Police (PNP) chief, Gen. Guillermo Eleazar urged Filipino Muslims to share the dream of a peaceful, harmonious, and progressive community
"(Eid-al-Fitr) reminds us not of our differences, but of the ideals and goals that unite us as one people, as Filipinos seeking to rise above difficulties and to triumph amid adversity," Eleazar said.
He also expressed hope that Filipinos, despite having different beliefs, will unite in the pursuit of peace, equality, and progress.
"We affirm that all human beings are brothers unto one another. With this, let us be one in building a strong nation with continuous economic growth and with good and honest leaders," he added. (with Lloyd Caliwan/PNA)