By Joyce Ann L. Rocamora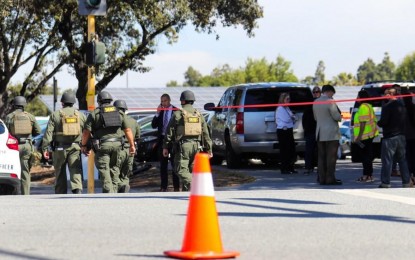 MASS SHOOTING. Police and investigators work at the scene of a mass shooting in San Jose, California, in the United States, on Wednesday (May 26, 2021. The Department of Foreign Affairs confirmed that one of the eight people who were killed in the shooting is of Filipino descent. (Photo by Dong Xudong/Xinhua)
MANILA (Philippines News Agency) – One of the eight fatalities in the mass shooting at a rail yard in San Jose, California in the United States is of Filipino descent, the Department of Foreign Affairs (DFA) confirmed Thursday.
"There are eight fatalities in the shooting in California. The Philippine Consulate General in San Francisco is confirming reports that at least one of them is of Filipino descent," the agency said in a text message.
The DFA said the consulate is now coordinating with authorities to get more information, citing its readiness to extend any assistance if needed.
The victim of Filipino descent was Paul dela Cruz Megia, 42.
Local reports identified the shooter as Samuel Cassidy, a maintenance worker at the Valley Transport Authority (VTA) and the co-worker of the victims.
On Wednesday morning (local time), Cassidy opened fire at the VTA Light Rail Yard, which also wounded one person.
Local authorities confirmed that the lone shooter died, with preliminary investigation showed he committed suicide after the shooting rampage. (PNA)