By Prexx Marnie Kate Trozo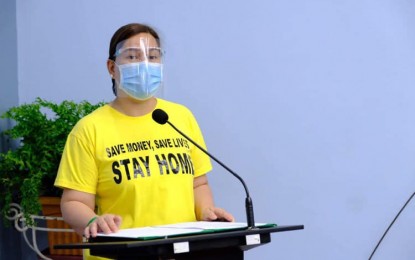 Davao City Mayor Sara Duterte (Photo courtesy of Davao-CIO)
DAVAO CITY (Philippines News Agency)– In time for the celebration of the 123rd Philippine Independence on Saturday, Davaoeños were reminded they can emerge victorious from the Covid-19 pandemic through adherence to safety protocols.
Mayor Sara Duterte, in a statement, told her constituents "it is only when we each do our part that we can emerge victorious from this and commence the healing and recovery of our communities."
She dedicated the Philippine Independence to front-liners who continue to fight and risk their lives against the pandemic.
"More than a century into our independence, we now also join the rest of the world in facing a common enemy that is Covid-19. We salute our modern-day heroes, our front-liners, who continue to place their lives on the line in order for Filipinos to be free of this disease," she added.
Duterte also underscored that while vaccines are available, Davaoeños should not let their guards down because the threat is real, the numbers are still rising, and the consequences terrible.
"I hope that the essence of our fight for independence – to be steadfast, constant, and strong despite the battles and challenges that come our way – may remain with us as we endeavor towards the future. In the same way that our heroes fought for the country's liberation more than a hundred years ago, let us also find the courage and the resolve to liberate ourselves from the clutches of this deadly virus and become a stronger and more resilient Davao City," she added. (PNA)