By Che Palicte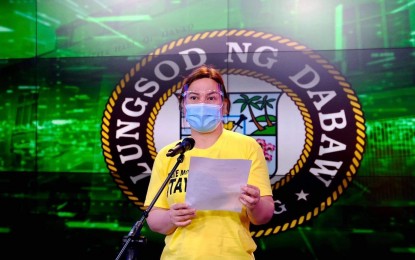 Davao City Mayor Sara Z. Duterte (Photo courtesy of City Information Office)
DAVAO CITY (Philippines News Agency)– Mayor Sara Z. Duterte lashed out at Vice President Leni Robredo as she urged her to avoid involving the coronavirus disease (Covid-19) surge in Davao City in her attempt at politicking.
The mayor's remarks came after Robredo on Sunday told the city government to look at how Cebu City successfully controlled the surge of their cases through private partnerships and the active presence of the medical community.
"There will be a proper time to attack my performance as an LCE (local chief executive) in this pandemic if she dares to run for President," Mayor Sara said in a statement.
She added the private sector has been very helpful and has tremendously contributed to the Covid-19 response in Davao City.
"The Vice President should refrain from giving advice if she knows nothing about what is happening on the ground. This has been the hallmark of her term as VP, where she puts forth comments on matters and affairs she lacks understanding and knowledge on and does not offer anything helpful to solve a problem," Duterte added.
She added Robredo should not attack the medical community of this city as being inactive when they have been silently suffering and working tirelessly to help save lives since March of last year.
"She should open her eyes to the surge of cases in localities all around the world and she might be able to say that a surge in cases where 85 percent of the cases are asymptomatic is primarily identified by aggressive testing, coupled with tracing and isolation/quarantining," the presidential daughter added. (PNA)