By Filane Mikee Cervantes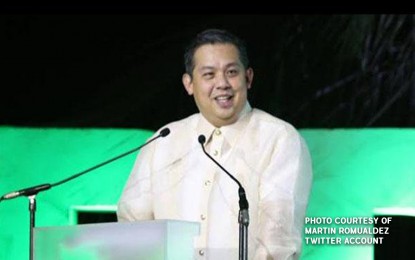 House Majority Leader Martin Romualdez (File photo)
MANILA (Philippines News Agency) – The Lakas-Christian Muslim Democrats (CMD) has renewed its alliance agreement with the regional party Hugpong ng Pagbabago (HNP) of Davao City Mayor Sara Duterte ahead of next year's elections, House Majority Leader Martin Romualdez said on Wednesday.
In a national executive meeting held on Wednesday afternoon, top officials of the Lakas-CMD adopted a resolution that authorizes Romualdez, who is party president, to sign the renewal of their alliance agreement with the HNP with the end in view of "building a multiparty coalition intent on pursuing the political and socio-economic reforms laid out by the Duterte administration".
Romualdez said the alliance agreement would bind the two parties to support whoever they decide to field as presidential candidates in next year's polls.
"If Mayor Sara Duterte decides to seek higher office for 2022, we are ready to work for her victory in the coming election," Romualdez said.
Romualdez also called on other political parties to join them to form a broad multiparty coalition that shares the "same vision of building a strong republic through sustainable growth and development of the regions".
In the adopted resolution, Lakas-CMD officials noted the importance of the party playing an active role in building a "strong republic" amid the coronavirus disease (Covid-19) pandemic.
The Lakas-CMD previously signed an alliance agreement with HNP on Nov. 7, 2018, which paved the way for their partnership in the 2019 national and local elections.
"The 2022 election will see both parties working together once more for the common good but this time, hopefully, with more political parties on board," Romualdez said. "May this new coalition usher in a new era of national unity, which we badly need to bounce back from the ravages wrought by the pandemic."
In a radio interview on Monday, Mayor Sara said that the presidency is not intended for a 'woman' like her.
Duterte quoted her father, President Duterte, who said the "presidency is not a woman's job".
"President Duterte said that the presidency is not a woman's job so particularly [it's] not for me. So if he decided to run for vice-president (VP), let's not expect that he will get me as his running mate [since I am a woman]," she said.
She also confirmed that there are individuals who signified interest to be her running mate should she decide to run for president in next year's polls.
"Yes, there are a lot of them who expressed their intent [to run for VP as my running mate], but I cannot answer them because there is no final answer yet," she added.
Despite the cold feet in running for the country's top post, the presidential daughter, however, thanked the continuous support poured unto her.
"To those who expressed their support, I thank you all for the trust and confidence you have given to me as a person and as a public official," she further added. (PNA)