By Benjamin Pulta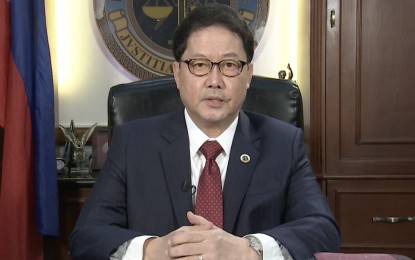 Justice Secretary Menardo Guevarra (File photo)
MANILA (Philippines News Agency)– Justice Secretary Menardo Guevarra on Wednesday said contrary to assertions made by Senator Manny Pacquiao, there are no complaints against the Department of Health's (DOH) handling of finances arising from the government's coronavirus disease 2019 (Covid-19) response that were filed before the Task Force against Corruption (TFAC).
"Except for complaints relating to Dengvaxia and PhilHealth (Philippine Health Insurance Corp.), the TFAC (Task Force against Corruption) has not received so far any other complaints against the DOH (Department of Health), particularly in connection with anti-Covid 19 pandemic expenditures," Guevarra told reporters.
Dengvaxia, an anti-dengue vaccine, is in hot water after being inconclusively linked to deaths among children who received it under a vaccination program during the term of former health secretary Janette Garin.
The government, meanwhile, has ordered investigations on the state health insurer in connection to payments made to private hospitals.
Meanwhile, Guevarra said the DOJ-led TFAC has submitted its midyear report to President Rodrigo Duterte on June 9.
As of this date, the TFAC had received at least 220 complaints of alleged corrupt activities in government, Guevarra said.
Around 210 of these complaints had been acted upon quietly by the task force, he added.
Guevarra also said the agencies/units with the most number of complaints were various local government units, followed closely by the Department of Public Works and Highways (DPWH).
"Many of the complaints were about anomalous transactions perpetrated jointly by these LGUs and district engineering offices," the DOJ chief said.
Other agencies with large numbers of complaints were the Land Registration Authority, Department of Environment and Natural Resources, Bureau of Customs, and a number of government-owned and controlled corporations (GOCCs).
The TFAC endorsed at least 15 cases to the Ombudsman for further investigation after a thorough evaluation. Another 15 cases were referred to the NBI for case build-up and possible criminal investigation. The rest were referred to other pertinent government agencies for the conduct of an administrative investigation, Guevarra also said.
The Office of the Ombudsman, Commission on Audit, and the DOJ are also finalizing a Memorandum of Agreement (MOA) that will revive the deployment of resident ombudsmen in certain graft-prone agencies.
The DOJ has likewise enlisted the support of the Department of Education for the intensification of value formation, particularly on the virtues of honesty, integrity, and love for country, among young learners. (PNA)