By Ruth Abbey Gita-Carlos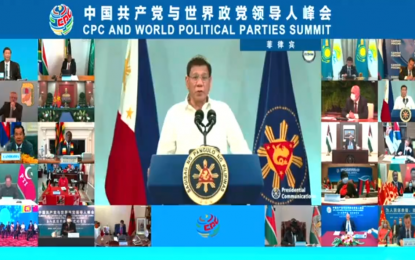 VIRTUAL SUMMIT. President Rodrigo Roa Duterte speaks during the Communist Party of China (CPC) and World Political Parties Summit via video link on Tuesday (July 6, 2021). Duterte valued the friendship and ties between CPC and the Philippines' ruling Partido Demokratiko Pilipino-Lakas ng Bayan (PDP-Laban) which he chairs. (Screengrab from Facebook)
MANILA (Philippines News Agency) – President Rodrigo Duterte on Tuesday emphasized the need to maintain the Philippines' "constructive" and "peaceful" negotiations with China to further bolster "mutual trust and confidence" between the two countries.
Duterte made the remarks, as he joined China in celebrating the centennial anniversary of the Communist Party of China (CPC), the sole governing political party of China with over 95 million members.
In his message during the CPC and World Political Parties Summit via video link on Tuesday, Duterte expressed gratitude to the growing friendship between CPC and his ruling party, the Partido Demokratiko Pilipino-Lakas ng Bayan (PDP-Laban).
"We value the friendship [and] ties between PDP-Laban and the CPC that have grown significantly over the years. To further build mutual trust and confidence, we must sustain our constructive dialogue and peaceful engagement. This is crucial as the bilateral relations between our two countries expand and deepen," he said.
Duterte said the Philippines counts on China as a "friend and a partner for peace and development."
He hoped that the "deep and enduring" ties between China and the Philippines would continue to thrive as the two nations "value win-win cooperation, amity and mutual respect."
"We trust in the collective wisdom of the great Chinese nation that China will use its newfound strength in defense of what is good and just for all humanity," Duterte said. "After all we exist, in one global village, our destinies are inextricably linked with each other, peace and prosperity therefore must be shared and enjoyed by all."
Duterte also thanked the Chinese government for assisting the Philippines in its fight against the coronavirus disease 2019 (Covid-19) and in its bid to restart its economy.
'Sleeping dragon no more'
Duterte also heaped praises on China's "extraordinary" rise to prosperity, helping more than 800 million Chinese nationals escape from extreme poverty and driving a global growth in the process.
Gone are the days of sleeping by the Chinese dragon, Duterte said, because of China's "collective and dedicated" efforts under CPC's leadership.
"Indeed, the sleeping dragon no more, China has realized its dream of progress and prosperity for its people. With this came great power and equally immense responsibility," he said.
Duterte likewise expressed confidence that China will continue to play a vital role in years to come.
"Therefore, we won't be any turning back. China has risen and will play an important role in the global decades for decades to come. The world faces tremendous challenges from Covid-19 to Climate Change and various security threats. While we see difficulties, we also glean many opportunities from greater cooperation and solidarity," he said.
As party's secretary general of the CPC Central Committee, Chinese President Xi Jinping led the ruling party's 100th anniversary celebration on July 1.
In his keynote speech, Xi said the CPC is willing to contribute more Chinese solutions and Chinese strength to the poverty reduction process worldwide.
Xi added that China will never seek hegemony, expansion, or sphere of influence. (PNA)