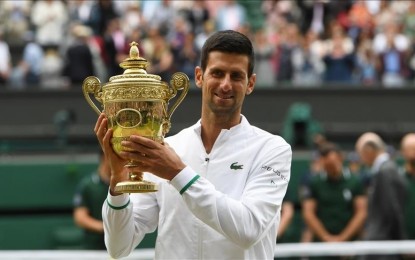 Serbian tennis star Novak Djokovic
ANKARA (Anadolu/PNA)– Novak Djokovic beat Italy's Matteo Berrettini to claim his sixth Wimbledon title on Sunday.
The Serbian star came from a set down to win 6-7, 6-4, 6-4, and 6-3 against his first-time finalist opponent.
The 34-year-old player commented on his victory, saying: "When I was a little boy, I used to make the Wimbledon trophy out of materials in my room, imagining I'd be standing here one day."
This was Djokovic's third consecutive Wimbledon championship and the 20th Grand Slam title of his career, putting him level with rivals Roger Federer and Rafael Nadal.
Now Djokovic eyes the 2021 US Open, this year's fourth and final major tournament in August-September in New York. Djokovic will step on the court in New York to be the record holder in the all-time Grand Slam championships.
Swiss tennis legend Federer tweeted about his opponent's success: "Congrats Novak on your 20th major. I'm proud to have the opportunity to play in a special era of tennis champions. Wonderful performance, well done!"
In addition to his latest Wimbledon triumph, Djokovic displayed an emphatic performance this year winning the Australian Open and French Open — Roland Garros.
If he wins US Open in August, he will hold another record, winning all four Grand Slams of one calendar year and becoming the 6th tennis player in history to do so. (Anadolu)
World No.1 Barty clinches women's singles title at Wimbledon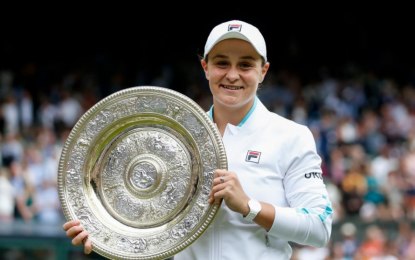 FIRST DISH. Ashleigh Barty of Australia poses with the trophy during the awarding ceremony for the women's singles final between Ashleigh Barty of Australia and Karolina Pliskova of the Czech Republic at the Wimbledon Tennis Championship in London, Britain, on July 10, 2021. Barty became the first Aussie to hold the Venus Rosewater Dish in 41 years. (Xinhua/Han Yan)
LONDON – World No. 1 Ashleigh Barty beat Karolina Pliskova of the Czech Republic 6-3, 6-7 (4), 6-3 to clinch the women's singles title at the Wimbledon Championships on Saturday.
The 25-year-old Australian needed only 28 minutes to take the first set in a convincing way, but the 29-year-old Pliskova fought hard to crawl back by winning the tiebreaker 7-4 in the following set.
In the deciding set, Barty broke early to keep the match under control, winning the second Grand Slam title of her career.
"It was the most incredible feeling I think I've ever experienced on a tennis court," said Barty who became the first Aussie to hold the Venus Rosewater Dish in 41 years. "There was certainly disbelief. I think I've worked so hard my whole career with my team and with people that mean the most to me to try and achieve my goals and my dreams. To be able to do that today was incredible."
Pliskova, playing her second Grand Slam final as Barty did, failed again in her pursuit of a Grand Slam title. But the big hitter said she was proud of herself to find a way to fight back.
Pliskova admitted that it's "a horrible start" as she lost the first 14 points in a row at the beginning of the match.
"That's why I'm more like proud about the way how I find a way back in that match. I mean, not really close to winning, but it was one set all after," she said.
About five weeks ago, Barty withdrew from the second round of the French Open due to a hip injury.
"In a sense, it was a two-month injury," she said. "Being able to play here at Wimbledon was nothing short of a miracle." (Xinhua)