By John Rey Saavedra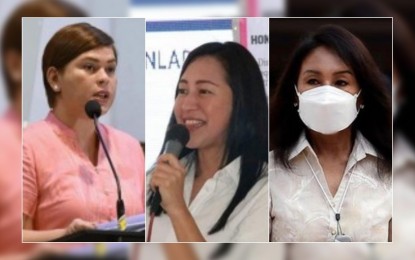 TOP PERFORMERS. (From left) Davao City Mayor Sara Duterte, Quezon City Mayor Joy Belmonte, and Cebu Governor Gwendolyn Garcia top a July 2021 survey that rated local officials' performance. The RP-Mission and Development Foundation said the initiative was meant to assess how their constituents rate them and aid in hatching better programs. (File photos)
CEBU CITY (Philippines News Agency) – An independent group survey has picked Davao City Mayor Sara Duterte, Quezon City Mayor Joy Belmonte, and Cebu Governor Gwendolyn Garcia as the best-performing local chief executives.
RP-Mission and Development Foundation survey posted Wednesday night on social media that Garcia topped governors from 81 provinces, obtaining a 77-percent rating, while Duterte ranked first among 16 city (except Metro Manila) mayors included in the poll with a rating of 93 percent.
In the National Capital Region (NCR), Belmonte emerged on top with an 87 percent rating.
Duterte was trailed by Calamba City Mayor Justin Marc Chipeco (82 percent), Calapan City's Arnan Panaligan (77 percent), Cagayan de Oro City's Oscar Moreno (74 percent), and Baguio City's Benjamin Magalong Jr. (71 percent).
Iloilo Governor Arthur Defensor landed second behind Garcia with a 72-percent approval by his constituents, followed by La Union's Francisco Emmanuel Ortega III (70 percent), Davao del Sur's Marc Douglas Cagas IV (67 percent), and Pampanga's Dennis Pineda (62 percent).
Pasig City Mayor Vico Sotto closely followed Belmonte with an 86-percent grade, Manila's Francisco "Isko Moreno" Domogoso got 80 percent, Valenzuela City's Rex Gatchalian 79 percent, and Navotas City Mayor Tobias Tiangco 77 percent.
Dr. Paul Martinez, head of the RP-Mission and Development Foundation, said city mayors in every region's capital were assessed by their constituents based on overall job performance or achievements.
"As for the governors, we chose the regional center of the province to gather a significant data for analysis. We are hoping that this will give our public servants a good insight on how they are doing with their constituents," Martinez said a statement.
Marinez said 10 of the 16 provincial governors representing each region achieved a majority approval rating.
For mayors outside NCR, three rated below 50 percent. For NCR mayors, 14 mayors were appraised positively while three fell below the passing mark (of 50 percent), according to Martinez.
The non-commissioned survey was conducted with 3,500 respondents in NCR on July 3 to 10.
A total of 5,000 respondents were also surveyed across all regions outside NCR on July 10 to 25.
The independent analysis was meant to measure the citizens' current opinion on their local chief executives and to assess their performances in terms of their obligations in the society.
The initiative was designed to aid officials in hatching better programs and policies that uplift the state of living of Filipinos, especially in providing assistance related to the coronavirus disease 2019 pandemic. (PNA)