By Lade Jean Kabagani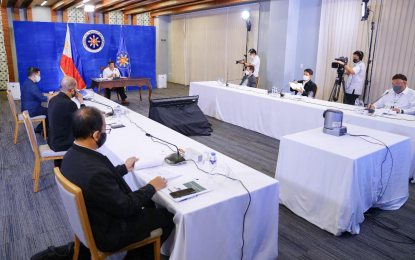 TALK TO THE PEOPLE. President Rodrigo R. Duterte presides over a meeting with the Inter-Agency Task Force on the Emerging Infectious Diseases (IATF-EID) core members prior to his talk to the people at the Arcadia Active Lifestyle Center in Matina, Davao City on Monday (July 19, 2021). Duterte said he wanted to meet with former Foreign Secretary Albert del Rosario to personally ask him about his claim that China interfered in the 2016 presidential elections to get Duterte elected. (Presidential photo by Joey Dalumpines)
MANILA (Philippines News Agency) – President Rodrigo Duterte on Monday said he wanted to meet with former Foreign Secretary Albert del Rosario to personally ask him about his claim that China interfered in the 2016 presidential elections to get Duterte elected.
Duterte said he won by 6 million votes against his closest rival, former Interior Secretary Mar Roxas in the 2016 presidential race.
"Daldal ka ng daldal dyan na China matulong sa akin, saan mo nakuha yan? 16 million [votes] makuha mo ng tulong sa ibang bayan, 16 million mabili mo? Ang akin (You kept on talking that China help me, where did you get that? Can you get 16 million votes from other nation? Mine was) majority 6 million [votes] over your friend," Duterte said during his Talk to the People at the Arcadia Active Lifestyle Center in Matina, Davao City.
He said del Rosario should just tell his address and the President is willing to meet with the country's former top diplomat "alone."
"I want to see you personally. Where can I meet you?," Duterte said. "Try conveying to me the message where I can find you at pupuntahan kita (and I'll go to you)."
Duterte said he wanted to talk to "some people" in Washington to find out whether del Rosario ordered the withdrawal of Philippine ships from Scarborough Shoal in the West Philippine Sea during a standoff with China in 2012.
"You know, we are still investigating it. But you know, ikaw Alberto, pagnasilip ko lang na meron ka, I will charge you, marami ako idedemanda sa'yo (you Alberto, once I found that you have, I will charge you, I have many charges against you)," he said.
Meanwhile, Chief Presidential Legal Counsel Salvador Panelo said del Rosario is just making an allegation to tarnish Duterte's overwhelming victory in the 2016 elections.
Panelo said del Rosario's accusation is not true since it is not the character of Duterte to resort to unlawful and unconstitutional means just to win an election.
"Hindi nyo kailangan, unang-una, ng suporta ng dayuhan, at hindi kayo maaring humingi o tumanggap sapagkat yan ay labag sa batas, sa Saligang Batas, at labag sa inyong character (You do not need, first, foreign support, and you cannot ask for or receive because that is against the law, the Constitution, and against your character)," Panelo told Duterte during the pre-recorded Talk to the People.
Duterte served as Davao City mayor for over two decades before his overwhelming victory as the country's first leader from Mindanao in 2016.
Last week, del Rosario claimed that on Feb. 22, 2019, he received information from a most reliable international entity that high Chinese officials are bragging that they had been able to influence the 2016 elections in favor of Duterte.
Presidential Spokesperson Harry Roque said del Rosario's claim was nonsense.
"Kalokohan po 'yan (That's nonsense) coming from a proven traitor," Roque said in a press briefing on July 12.
Roque urged Filipino lawyers to study the legal liability of del Rosario who was believed to have ordered the withdrawal of Philippine ships from Scarborough Shoal.
Duterte has repeatedly blamed the past administration over the Philippines losing possession of the Scarborough Shoal in 2012.
In a taped public address on May 5, Duterte expressed his intent to launch an investigation into the Philippines' withdrawal of its ships in the Scarborough Shoal.
He said he wanted to personally ask del Rosario and former Supreme Court Associate Justice Antonio Carpio why they let the Philippines withdraw its vessels in the shoal.
Duterte added that President Xi Jinping had claimed that Carpio and del Rosario gave the Philippine islands as a "gift" to China. (PNA)