By Ruth Abbey Gita-Carlos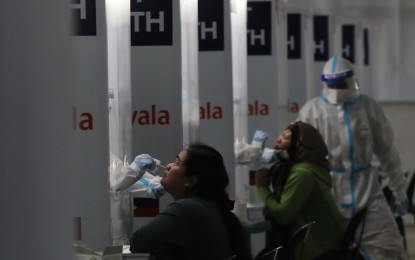 (File photo)
MANILA (Philippines News Agency)– To prevent the entry of new coronavirus disease 2019 (Covid-19) variants, the government is requiring international travelers in all Philippine ports of entry to observe strict testing and quarantine protocols, Malacañang said on Friday.
"All incoming international travelers in all ports of entry must strictly comply with testing and quarantine protocols approved by the IATF-EID (Inter-Agency Task Force for the Management of Emerging Infectious Diseases). This is to further prevent the introduction of variants of concern to the country," Presidential Spokesperson Harry Roque said in a press statement.
Roque, who concurrently serves as IATF-EID spokesperson, said infection prevention and control protocols must be strictly followed in all quarantine and isolation facilities.
The Bureau of Quarantine, Roque said, must also identify and monitor the close contacts of coronavirus-infected travelers in the plane or vessel.
"Also, local government units (LGUs) handover must include clear transportation arrangements and quarantine accommodation," he said.
He said LGUs must also monitor the travelers who are undergoing quarantine.
The immediate reverse transcription-polymerase chain reaction (RT-PCR) test must be done, once passengers exhibit symptoms of Covid-19, Roque said.
"In addition, health assessment must be done for all arrivals at the end of isolation or quarantine period," he said, amid the threat of a more transmissible Delta variant.
Meantime, the IATF-EID is allowing foreign spouses, parents, and children of Filipino citizens with valid 9(a) visas to enter the Philippines without an entry exemption document beginning August 1, 2021, Roque said.
Roque said the Prevent-Detect-Isolate-Treat-Reintegrate (PDITR) strategy should likewise be "continuous and strengthened."
This means there should be active case finding, intensified contact tracing, immediate quarantine in a facility, declaration of localized enhanced community quarantine (ECQ) down to the zone or village levels, stricter implementation and observance of minimum public health standards, and fast-tracked deployment of Covid-19 vaccines, Roque said.
Amid the threat of Covid-19, he said the IATF-EID is also urging establishments to consider developing and converting more outdoor spaces into temporary outdoor weekend markets and dining spaces and permanently accessible urban green spaces, outdoor recreational spaces and public sanitation facilities to ensure the "safe continuity of economic activities." (PNA)