By Ivan Stewart Saldajeno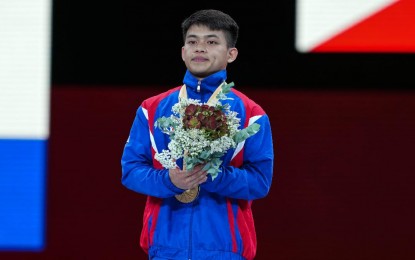 Gymnast Carlos Yulo (File photo)
MANILA (Philippines News Agency) – Carlos Yulo got a chance at a Tokyo Olympic medal after qualifying for the finals in the men's artistic gymnastics vault event following the conclusion of the preliminary round on Saturday night at the Ariake Gymnastics Centre in the Japanese capital.
Yulo placed sixth in the vault with an average of 14.712 points after two jumps, well within the Top 8 cutoff.
Shin Jeah-Wan of South Korea and Artur Davtyan of Armenia topped the qualifiers after getting identical 14.866 averages.
Turkey's Ahmet Onder got the last ride to Monday's finals after snatching the tiebreaker over South Korea's Yang Hak-Seon.
However, Yulo faltered in the other disciplines, including the floor exercise.
Yulo, the 2019 world champion in the floor and the world number one, crashed out in the said discipline, only scoring 13.566 points, good for a tie for 43rd place with Ukraine's Petro Pakhniuk.
Pakhniuk clinched the tiebreaker on a better execution score.
Yulo started his routine on a sour note with two failed landings, which summed up the rough outing for him in his pet event.
Russia's Nikita Nagornyy, who many believe would be Yulo's biggest rival for the floor gold, made the final after landing in second place with 15.066, behind the 15.2 of Israel's Artem Dolgopyat, another known favorite for the championship.
Yulo also landed 55th in the parallel bars, another known strength of his, 24th in the rings, 63rd in the horizontal bars, and 69th in the pommel horse.
He finished 47th in the all-around race, way outside of the Top 24 cutoff even if the limit of having only two gymnasts per country has been put in place.
Meanwhile, swimmer Remedy Rule missed out on making the semifinals of the women's 100-meter butterfly event.
Playing in Lane 3 of Heat 2, Rule clocked in at 59.68 seconds, some 0.3 seconds behind heat winner Ellen Walshe of Ireland.
Despite the strong performances, both Walshe and Rule were outside of the semifinal cup as the 16 fastest swimmers after Round 1 already qualified.
Walshe and Rule ranked 24th and 25th, respectively, out of the 33 swimmers, as they missed the Top 16 by a full second.
Zhang Yufei of China and Emma McKeon of Australia ruled the preliminary phase after finishing tied for first place in Heat 5 at 55.82 seconds.
Defending champion and world record holder Sarah Sjoestroem of Sweden came in third overall after topping Heat 4 at 56.18 seconds.
McKeon's teammate, Brianna Throssell, earned the last semifinal spot after clocking in at 58.08 seconds.
Rule's stint in the Tokyo Olympics is not yet over as she will compete in the 200-meter fly next week. (PNA)