By Ruth Abbey Gita-Carlos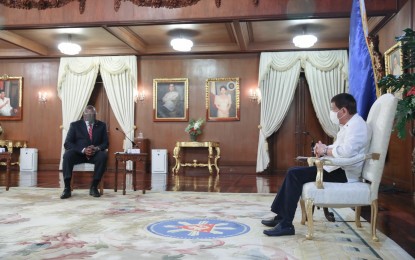 President Rodrigo Duterte and US Defense chief Lloyd Austin III (Presidential Photo)
MANILA (Philippines News Agency)– President Rodrigo Duterte and United States (US) Defense Secretary Defense Lloyd Austin III believed Thursday that "enhanced communication and greater cooperation" can further boost Manila and Washington's alliance.
During Austin's courtesy call on Duterte at Malacañan Palace in Manila, the two had an "open and frank" conversation, the Office of the President (OP) said in a press statement.
Duterte and Austin, the OP said, agreed that the Philippines and the US should bolster their cooperation in battling the coronavirus disease 2019 (Covid-19) pandemic and transnational crimes, as well as in trade and investments.
"They agreed that the alliance can be further strengthened through enhanced communication and greater cooperation, particularly in the areas of pandemic response, combatting transnational crimes, including the war on illegal drugs, maritime domain awareness, the rule of law, and trade and investments," it said.
Duterte also lauded the US for helping the Philippines in its fight against the Covid-19 pandemic, Malacañang said.
"The President expressed appreciation for the U.S' assistance in the country's fight against the Covid-19 pandemic, noting that the Philippines is among the beneficiaries of the COVAX Facility where the US is the largest contributor. The Philippines recently received more than three million vaccine doses under this facility," the OP said.

'Strong' ties sought

The Palace said Duterte and Austin also discussed the status and "future" direction of the Philippines and the US' engagement amid the two nations' commemoration of the 75th founding anniversary of their diplomatic ties and the 70th anniversary of their Mutual Defense Treaty (MDT).
The Philippines and the US established their formal diplomatic relations on July 4, 1946. Five years after, or on August 30, 1951, the two nations inked MDT to boost their defense and security cooperation.
Austin, the OP said, said he has "great respect" for the Filipino people.
He also told Duterte that the US wants a "strong" relationship with the Philippines by being an "equal sovereign partner," Malacañang said.
The Palace said Austin likewise relayed US President Joe Biden's greetings to Duterte.
Duterte, in response, conveyed his well wishes for Biden.
Austin is in Manila from July 29 to 30 for an official visit.
He is also scheduled to meet with Defense Secretary Delfin Lorenzana and Foreign Affairs Secretary Teodoro Locsin Jr.
Austin's visit to the country came amid the suspension of the abrogation of the Visiting Forces Agreement (VFA).
Malacañang, however, did not mention as to whether the VFA was discussed during the 75-minute meeting between Duterte and Austin.
Lorenzana earlier said an "addendum" to the VFA will be discussed during his meeting with Austin.
On the other hand, Presidential Spokesperson Harry Roque on July 22 said the Philippines' "debt of gratitude" to the US might convince Duterte to reconsider VFA.
Duterte on Feb. 11, 2020 ordered the abrogation of VFA.
The VFA was supposed to be officially scrapped in August last year, but its termination was postponed for the third time after Duterte in June this year extended its validity for another six months. (PNA)