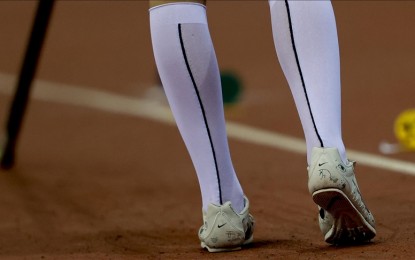 TOKYO (Anadolu/PNA)– The team leader of the athletics delegation in the Tokyo Olympics here is adding a lot of extra precautions for Filipino pole vaulter EJ Obiena on Thursday after two of his rivals, including world No. 2 Sam Kendricks of the United States, tested positive for Covid-19.
Terry Capistrano, the Philippine Athletics Track and Field Association (Patafa) secretary-general, who heads the two-athlete delegation, is not leaving anything to chance when it comes to the safety of the athletes, particularly Obiena since it was his rivals who were struck off at the start list because of the positive tests.
Also out of contention is German Chiaraviglio of Argentina.
"We're taking a lot of extra precautions now," Capistrano said. "We're bringing our own alcohol to Edogawa Stadium, where EJ practices, and we are the ones who wipe down whatever surfaces he will be in contact with. We can never be too careful anymore."
Capistrano has also commissioned a van to bring the team to practice, saying he won't allow Obiena to ride the athletes' bus or any of those Olympic-accredited taxis anymore.
The team, which includes sprinter Kristina Knott, had earlier decided to stay at Conrad Hotel instead of transferring to the Athletes' Village, which may have saved the athletes from potential contamination.
Kendricks was a bronze Olympic medalist in the Rio 2016.
He also won back-to-back world championships in London 2017 and Doha 2019.
"We're lucky we decided to stay here," Capistrano said.
"… We are saddened to confirm that Sam Kendricks tested positive for COVID-19 and will not compete in the Olympic Games Tokyo 2020," US Olympic and Paralympic Committee said on Twitter.
The committee added that Kendricks, 28, was "transferred to a hotel to be placed in isolation" as per the coronavirus protocols. (With reports from Anadolu/PR)