By Ivan Stewart Saldajeno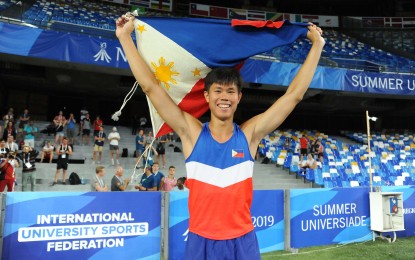 EJ Obiena (File photo)
MANILA (Philippines News Agency) – EJ Obiena got a spot in the medal round of the Tokyo Olympics men's pole vault event after making the Top 12 cutoff in the preliminary round on Saturday.
He cleared 5.75 meters, which turned out to be enough as only 11 were able to finish the height.
Obiena, who cleared 5.5 meters and 5.65 meters in just one try but needed three to clear 5.75, is seeded 10th in the finals.
Defending champion Thiago Braz of Brazil, Obiena's longtime training partner, is seeded fifth after clearing 5.75 in two.
World record-holder Armand Duplantis of Sweden, who breezed through 5.71 in just one attempt, came in third overall after the countback.
Braz and Duplantis interestingly had shaky starts as they needed two tries to clear 5.5 meters.
Fourteen pole vaulters actually made the finals as there was a huge logjam among those who only cleared 5.65 meters.
After the countbacks have been tallied, only Harry Coppell of Great Britain, Ersu Sasma of Turkey, and Oleg Zernikel of Germany earned their entries to the final round. (PNA)