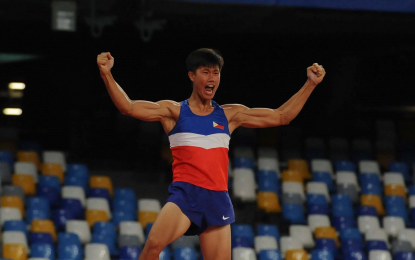 Ernest John Obiena (File photo)
TOKYO – Ernest John Obiena kissed his hopes for a medal goodbye after failing to clear the bar at 5.8 meters thrice in the men's pole vault finals at the Tokyo National Stadium here on Tuesday.
Obiena's personal best and Philippine record stands at 5.87, way above the 5.8 he was trying to clear.
After what looked like a foul attempt on his third try, Obiena approached the officials' table to protest the apparent disparity between the display clock and the official clock located near their table.
Realizing the mistake, officials gave Obiena another opportunity, but the Philippines' top pole vaulter, his momentum derailed by the error, again failed to leap over the clearance.
"You could see the desire was there to win, but in accordance with the rules, he knew his rules and rights and set things right. The best is yet to come for EJ and for the Philippine Athletics," said Popoy Juico, president of the Philippine Athletics Track and Field Association. "Mabuhay si EJ, mabuhay ang Pilipinas." (PR)