By Mar Serrano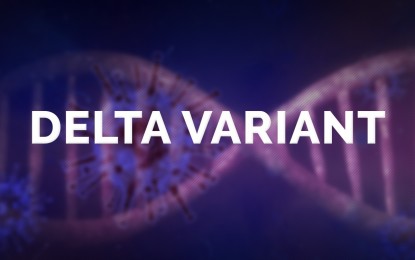 LEGAZPI CITY (Philippines News Agency) – The Department of Health (DOH) in Bicol said on Friday there were two confirmed Delta variant cases in Albay and Camarines Sur but both have already recovered.
Dr. Ernie Vera, DOH regional director, said in an online press conference that based on the Philippine Genome Center (PGC) laboratory sequencing test released on Thursday, a resident of Legazpi City in Albay and Nabua town in Camarines Sur tested positive for the hypertransmissible variant of the coronavirus.
Vera said the Legazpi City case was linked to a person who contracted Covid-19 in Malilipot, Albay while the Nabua case was infected by a Covid-19 patient working in Bula town.
It was not known yet what variant of the coronavirus infected the two other Covid-19 patients.
Dr. Aurora Deluro, DOH Regional Epidemiology Surveillance Unit chief, said the two Delta infected individuals have recovered after a 14-day isolation period in a designated quarantine facility.
Contact tracing is ongoing for secondary and tertiary contacts.
Overall, the DOH has confirmed 331 Delta variant cases.
Bicol also logged 91 new cases on Aug. 5, bringing to 2,833 its active Covid-19 infections out of a total 21,725 cases since March last year. (PNA)