By Joyce Ann L. Rocamora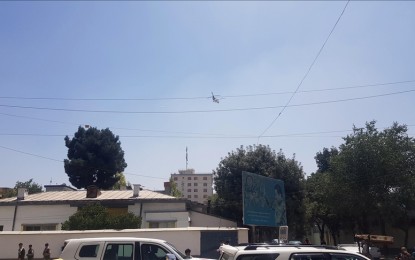 (Anadolu photo)
MANILA (Philippines News Agency) – At least 80 Filipinos are still waiting for the government-chartered plane to land in Kabul, Afghanistan from Dubai in the United Arab Emirates after the original flight was deferred on Tuesday night amid the chaotic situation in the Afghan capital's airport.
Joseph Glenn Gumpal, president of the Filipino community group Samahang Pilipino sa Afghanistan (SPA), is hoping the flight would leave as soon as possible, citing reports that the Hamid Karzai International Airport is now clear.
Gumpal said the roughly 80 Filipinos listed for this specific flight are staying in hotels or their company's compound in Kabul, but four others at the United Nations compound are still stranded in Mazar-i-Sharif.
"Iyon 'yong worries ko ngayon, 'yong apat na Pilipino sa Mazar pero nasa UN naman sila. Hindi sila maka-travel dito (Kabul) dahil walang flight, sarado ang airport sa Mazar at hindi puwede ang land travel (That's my worry, the four Filipinos are in Mazar but they are inside the UN compound. They cannot travel here in Kabul because there are no flights, the airport there is close and land travel is not an option)," he said in an interview on Wednesday.
Foreign Affairs Assistant Secretary Eduardo Meñez said there are no details on flights yet, but he will check with relevant offices about the arrangement for the four Filipinos.
The Department of Foreign Affairs (DFA) added that Manila is exhausting "all avenues to assure the safety" of the remaining Filipinos in the country.
"The Philippine Embassy in Islamabad is working alongside other Philippine Foreign Service Posts in the repatriation efforts, particularly in securing safe passage and other forms of coordination as needed to overcome challenges on the ground such as secure movement within Kabul, access to the airport, and the availability of flights," it said in a statement.
Filipinos safe
Filipinos in Kabul are so far safe, Gumpal said, amid uncertainty in the security situation there.
Many establishments such as banks and supermarkets are also closed but the remaining Filipinos there make do with company-provided aid and food.
"Ligtas naman kami, actually 'yon lang muna ang kailangan namin sa ngayon, ma-repatriate kami, mai-alis kami rito dahil hindi na kami puwedeng magtagal dito (We're safe, actually that's what we need right now, to exit the place as soon as possible because we cannot stay here anymore)," he said.
Gumpal noted that most of the companies these nationals are working at have either closed down or temporarily halted operations.
"Gaya ko wala na sarado na 'yong kumpanya ko, umalis na ako roon. Kung magtatagal pa ko magbabayad pa ako sa hotel, sa sarili kong bulsa 'yon (If I stay here longer, I have to shell out more money from my pocket because my company already closed)," he said.
The Pentagon earlier said more American troops have arrived at the capital's airport, ensuring more US military and some commercial flights are flying in and out of the city.
Manila is also coordinating flights back to the Philippines for those who were able to leave Afghanistan on their own via third countries. However, those who have not yet registered their name for repatriation are requested to do so immediately.
DFA said they may reach the Philippine Embassy in Pakistan, which has jurisdiction over Afghanistan, through WhatsApp/Viber at +923335244762; Messenger/Facebook: facebook.com/atnofficers.islamabadpe or facebook.com/OFWHelpPH and e-mail at isbpeatn@gmail.com.
Meanwhile, the Overseas Workers Welfare Administration (OWWA) thanked the DFA for its close coordination in securing the welfare of the Filipinos in the host country.
"We are thankful to the DFA because they fully coordinate with us. The repatriation flight that came home yesterday was also initiated by the DFA," OWWA chief Hans Leo Cacdac said in a virtual forum.
On Tuesday, the 35 Filipinos were flown to Doha, Qatar by their respective companies where they boarded a DFA-chartered flight to Manila.
Many countries have started evacuating their citizens from Afghanistan after Taliban forces regained control over the country, two decades after its rule was toppled by American forces in 2001. (with Ferdinand Patinio/PNA)