By Ruth Abbey Gita-Carlos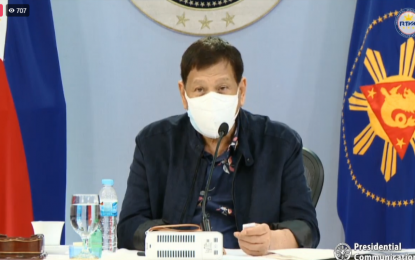 I WILL RUN. President Rodrigo R. Duterte confirms that he will run as vice president in 2022 during his Talk to the People on Tuesday night (Aug. 24, 2021). Duterte said he made the decision to continue his crusade against insurgency, criminality, and illegal drugs. (Screengrab from RTVM)
MANILA (Philippines News Agency) – President Rodrigo Duterte on Tuesday announced that he will be joining the 2022 vice presidential race.
Duterte, his taped Talk to the People that ended early Wednesday morning, said he has decided to seek the vice presidency to continue his administration's relentless fight against illegal drugs, criminality, and insurgency.
"Gusto talaga ninyo? Oh, sige, tatakbo ako ng bise presidente (You really want [me to run for vice president]? Fine, I will run for vice president). Then I will continue this crusade. I'm worried about the drugs, insurgency. Number one is insurgency, then criminality [and] drugs," he said.
Duterte said he would let the Filipino voters decide on his fate, as he seeks the vice presidency.
"I may not have the power to give the direction or guidance but I can always express my views in public for whatever it may be worth in the coming days. Nasa Pilipino na 'yan (It's up to the Filipino people)," he said.
Earlier Tuesday, Cabinet Secretary Karlo Nograles confirmed that Duterte has accepted his nomination as the vice presidential candidate of his ruling party, the Partido Demokratiko Pilipino-Lakas ng Bayan (PDP-Laban).
Nograles, who also acts as PDP-Laban executive vice president, said Duterte "agreed to make the sacrifice and heed the clamor of the people, and accepted the endorsement of the PDP-Laban for him to run as vice president in the 2022 national election."
Duterte's acceptance, Nograles said, was meant to "ensure that the country's Covid-19 (coronavirus disease 2019) vaccination program will be sustained in the critical stage of the pandemic where targets are steadily achieved."
The PDP-Laban National Executive Council led by the party president, Energy Secretary Alfonso Cusi, has issued a resolution endorsing Senator Christopher Lawrence Go and Duterte as the party's candidates for the 2022 presidential and vice presidential derbies, respectively.
The Go-Duterte tandem, according to the PDP-Laban's resolution, will "further strengthen the gains of the current administration toward the achievement of improved quality of life for every Filipino."
Go has said he would only join the presidency, once Duterte agrees to be his running mate in the 2022 national elections. (PNA)