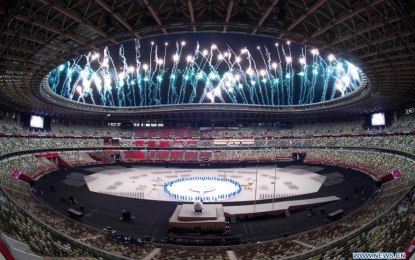 PARALYMPICS OPENS. Fireworks explode over the Olympic Stadium during the opening ceremony of the Tokyo 2020 Paralympic Games in Japan on Tuesday (Aug. 24, 2021). A record 4,403 athletes will compete in the quadrennial meet. (Xinhua/Xiong Qi)
TOKYO – A record 4,403 athletes will compete at the Tokyo Paralympic Games that kicked off on Tuesday night, according to International Paralympic Committee spokesman Craig Spence.
"I can tell you we're breaking a record at these Games," Spence told a press conference. "We're going to have 4,403 athletes competing here over the next 12 days. That is a record, the most number of athletes ever to compete at a Paralympic Games."
The previous record was 4,328 which was set at the Rio 2016 Paralympic Games.
"To achieve that, bearing in mind how hard it has been for many National Paralympic Committees to get athletes to competitions in the last 20 months is a remarkable achievement," Spence said.
"There are 2,550 male athletes and 1,853 female athletes. We have record participation of female athletes. So with 1853 female athletes, we beat the previous record of 1671 women that competed at Rio 2016," he added.
Japan has the biggest delegations, 254 athletes across 23 disciplines.
"It's their biggest ever delegation at a Paralympic Games, and nearly double what they had at Rio 2016 when they had 132 athletes," Spence said.
International Olympic Committee (IOC) President Thomas Bach attended the opening ceremony.
Japanese newspaper Nikkei said that Bach landed on Monday and is exempted from three-day self-quarantine. He will attend some events and is expected to leave Japan on Thursday.
Bach, who last time arrived on July 8, stayed in Japan for over a month for the Olympic Games.
The Paralympic Games will be held from Aug. 24 to Sept. 5 without spectators. (Xinhua)