By Ivan Stewart Saldajeno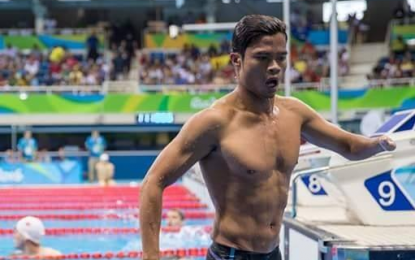 Para-swimmer Ernie Gawilan (Photo courtesy of PSC)
MANILA (Philippines News Agency) – It was a tough day for the Philippine para-swimmers as both Ernie Gawilan and Gary Bejino failed to enter the finals of their respective Tokyo Paralympic events for Monday at the Tokyo Aquatic Centre.
Gawilan finished 10th overall in the men's 100-meter backstroke S7 event, while Bejino came in 14th overall in the men's 50-meter butterfly S6 event following the conclusion of the preliminary rounds.
Gawilan finished last in Heat 2 of the 100-meter backstroke prelims, clocking in at 1 minute and 21.6 seconds.
He was 6 seconds off the Top 8 with Argentina's Inaki Basiloff punching the last ticket to the final later Monday with a time of 1:15.43.
There were 11 confirmed participants in the event, but Gawilan was last among those who actually swam as Christian Sadie of South Africa did not swim in Heat 1.
Another Argentinian, Pipo Carlomagno, headlines the swimmers who will compete for a medal later in the day as he set a new Paralympic record at 1:09.12, eclipsing the 1:09.86 by Great Britain's Jonathan Fox in 2012.
Carlomagno was just 0.2 seconds off the world record set by Ukraine's Bohdan Hrynenko in 2019, but the former has another shot at breaking the World Record in the final.
Argentina has an outright shot at sweeping the podium as Lucas Poggi also qualified for the final.
The rest of the finalists are Ukrainians Andrii Trusov and Yevhenii Bohodaiko, Russian Andrei Gladkov, Israel's Mark Malyar, and Italy's Federico Bicelli.
With his elimination, Gawilan is now done with his stint in the Tokyo Paralympics, leaving only three active participants, Bejino, wheelchair racer Jerrold Mangliwan, and para-taekwondo jin Allain Ganapin left in the hunt for a medal.
Bejino finished seventh in Heat 1 of the 50-meter fly at the time of 36.14 seconds, but following the conclusion of Heat 2, he was way out of the Top 8 cutoff.
Alejandro Rojas of Spain took the last seat in the medal race after his fifth-place finish in Heat 2 at the time of 33.87 seconds was good for eighth overall.
Rojas beat Brazil's Talisson Glock for the last spot in the final by just 0.02 seconds.
China's Wang Jingang topped the heats after clocking in at 30.81 seconds in Heat 2.
Heat 1 winner Nelson Crispin of Colombia took the second seed after swimming at a time of 31.66 seconds.
Completing the Final 8 are China's Jia Hongguang, Spain's David Sanchez, France's Laurent Chardard, Brazil's Gabriel Melone De Oliveira, and Kazakhstan's Yerzhan Salimgereyev.
The Philippine Paralympic team won't see action until 8 a.m. Thursday when Bejino returns to action in Heat 1 of the men's 400-meter freestyle S6 preliminaries. (PNA)