By Ruth Abbey Gita-Carlos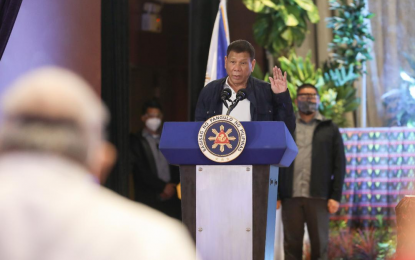 OFFICIAL VP BET. President Rodrigo Roa Duterte administers the oath-taking ceremony to reaffirm the membership of the Partido Demokratiko Pilipino Lakas ng Bayan (PDP Laban) members during the party's National Convention and Proclamation of Candidates for 2022 polls in Pampanga on Sept. 8, 2021. Duterte on Sept. 17 formally accepted his nomination as the official vice presidential candidate of the PDP Laban for the 2022 national elections. (Presidential photo by Karl Norman Alonzo)
MANILA (Philippines News Agency) – President Rodrigo Duterte has formally accepted his nomination as the official vice presidential candidate of the ruling party, the Partido Demokratiko Pilipino-Lakas ng Bayan (PDP-Laban), for the 2022 national elections.
Duterte signed the PDP-Laban's certificate of nomination and acceptance (CONA) on Sept. 17, based on the photos released by party president and Energy Secretary Alfonso Cusi.
On September 8, the PDP-Laban officially proclaimed Duterte as its vice presidential candidate and Senator Christopher Lawrence Go as its presidential candidate.
Duterte has accepted his nomination to ensure the "continuity" of his efforts to bring progress to the country.
Go, on the other hand, has rejected his nomination as PDP-Laban's standard-bearer.
Duterte's signing of CONA came ahead of the filing of the certificate of candidacy (COC) for the May 9, 2022 national and local elections in October.
Official candidates of political parties who fail to submit CONA will be deemed as independent bets.
The Commission on Elections has scheduled the filing of COC from Oct. 1 to 8 this year.
Quizzed if Duterte's decision to run for vice president is already final, Presidential Spokesperson Harry Roque said the public should wait for the latest developments during the filing of COC and on the last day of substitution of an official candidate on November 15.
"Well, tignan po natin kung ano ang mangyayari sa October 8 at saka sa November 15, kung hindi po ako nagkakamali, 'yun po 'yung last day for substitution. (let's see what will happen on October 15 and on November 15, if I'm not mistaken, the last day of substitution)," Roque said in a virtual presser.
Meantime, Roque said he would meet with Duterte next week to discuss his political plans next year.
Roque, a guest senatorial candidate of PDP-Laban, said he needs to consult Duterte first before pursuing his plan to run for senator.
"Mag-uusap pa po kami ni President (The President and I still have to talk)," he said. "Inaasahan ko po next week ay pupuwede na po kaming makapag-usap (I expect that we can already hold a dialogue next week)."
On Monday, Roque admitted that he is still "exploring options" whether to file his COC for senator in the 2022 polls. (PNA)