By Benjamin Pulta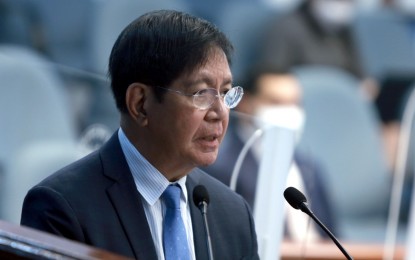 Senator Panfilo Lacson (Photo courtesy of Senate PRIB)
MANILA (Philippines News Agency) – The Senate hearing into the purchase of alleged overpriced medical supplies for the coronavirus response has failed to prove links between President Rodrigo Duterte and Pharmally Pharmaceuticals Corp., the supplier of the personal protective equipment sets at the height of the pandemic in 2020, Senator Panfilo Lacson said.
"Being an investigator, we can always speculate based on pronouncement, based on circumstances, based on statements made. But still at the end of the day, ang pinag-uusapan dito, ano ang hawak na ebidensya (What we are talking about is the evidence at hand). And so far, there is no evidence to link the president to Pharmally or even to Michael Yang except the admission that they have been long-time friends even before, when he was a mayor, for 20 years," Lacson said, referring to Duterte's former economic adviser.
Speaking in an interview over ANC's Headstart on Sept. 28, Lacson said this was "not enough" to implicate Duterte in the deals of Pharmally supplying the Department of Budget and Management-Procurement Service (PS-DBM) with medical supplies.
"Wala, wala talaga tayong makita (There is nothing, we see nothing) as of now na link or even anybody in the Palace. That cannot be denied. I'm sorry, Karen," Lacson told Karen Davila, the show's host.
READ: Purchase of Covid-19 supplies in adherence to Bayanihan 1: PRRD
Lacson, however, insisted that the Senate acted within its powers when it ordered the detention of Pharmally Director Linconn Ong.
"It's done within the powers of the Senate to cite him in contempt of the committee and detain him in the premises of the Senate. We can even transfer him to other facilities. That's how it is. He has been evasive in his answers to the senators," Lacson said.
Citing a non-disclosure agreement, Ong, despite repeated questions from senators during one of the hearings, maintained that he cannot divulge the amount that Yang lent the company to help them fulfill the medical supply orders.
He also declined to hold an executive session with the senators.
"As long as he refuses to cooperate, he will stay under detention until such time we have approved the committee report if and when it is submitted by the BRC (Blue Ribbon Committee) chairman or the committee itself," Lacson said.
The Senate's Blue Ribbon Committee is looking into the transactions entered into by the PS-DBM with Pharmally and Yang's links to the firm. (PNA)