By Che Palicte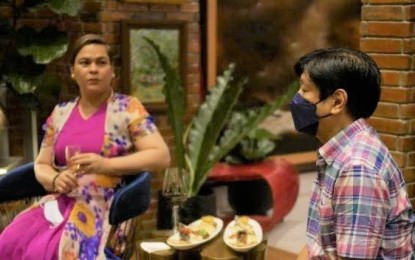 Davao City Mayor Sara Duterte (left) and Ferdinand Marcos Jr. (Facebook photo)
DAVAO CITY  (Philippines News Agency)– Mayor Sara Duterte appealed for unity and support for the current administration, saying all Filipinos want a peaceful nation.
She also thanked anew her supporters who challenged her to run for a national position.
"Now I would like to start our fight with a call. Let us all unite in supporting the Duterte administration. We have only one dream: A more stable, more peaceful, more developed country," she said in a video message posted on her official Facebook page on Tuesday night.
In a previous statement, Duterte admitted that seeking the vice presidency was a hard decision but she opted to heed the clamor to serve.
"Honestly, your overflowing support gives me strength and courage and inspiration. If it weren't for you, I wouldn't be out here," she said.
"November 15 is over but our fight is just beginning. I know it will be long and difficult but I am comfortable to be with you and you will help me until the end," Duterte added.
Duterte's candidacy under Lakas-CMD (Christian Muslim Democrats) filed by a representative on Nov. 13, was quickly followed by the announcement of the Partido Federal ng Pilipinas that it is adopting her as the running mate of its standard-bearer, Ferdinand "Bongbong" Marcos Jr.
She added that her party asked for support for Marcos and for her VP bid but PDP-Laban refused.
"But we understand that. There was no name that was slandered or defiled, abused, aggrieved or fought, made to cry, or oppressed," she said. "Once again I call for unity. Our goal is not only to continue the good beginnings of President Duterte but also to improve it further. The people will make me strong. And it is through our solidarity and unity that we will be able to build a stronger nation." (PNA)