By Raymond Carl Dela Cruz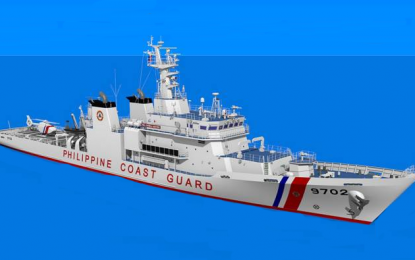 An artist's depiction of the Philippine Coast Guard's (PCG) 97-meter multi-role response vessel (MRRV) modeled after the Japan Coast Guard Kunigami-class vessels. (Photo courtesy of PCG)
MANILA (Philippines News Agency)– The Philippine Coast Guard's (PCG) second 97-meter multi-role response vessel (MRRV), the largest in its fleet, is set to be launched by its manufacturer in Japan on Thursday.
In a statement, PCG Spokesperson Commodore Armando Balilo said the ship, the second of two MRRVs acquired by the Department of Transportation (DOTr) for the PCG under the Maritime Safety Capability Improvement Project (MSCIP) Phase II, will be launched at the Shimonoseki Shipyard of Mitsubishi Shipbuilding Co. Ltd. (Mitsubishi Ships) In Japan.
"These MRRV's modeled after the Japan Coast Guard Kunigami-class vessels are expected to improve the PCG's maritime security and maritime safety capabilities," Balilo said.
The first MRRV, launched at the same shipyard on July 26, 2021, is expected to arrive in Manila by March 2022 while the second vessel will follow two months later.
"The two vessels will significantly boost the capabilities of the PCG in conducting maritime search and rescue, maritime law enforcement, as well as humanitarian assistance and disaster response operations," Balilo said.
The new vessels have a maximum speed of not less than 24 knots, an endurance of not less than 4,000 nautical miles, and are capable of conducting "sustained maritime patrols" in the country's waters including the West Philippine Sea and the Philippine Rise.
The MSCIP Phase 2 was funded by the Japan International Cooperation Agency (JICA) through an official development assistance loan amounting to JPY16.5-billion (PHP7.2 billion)
The actual contract between the DOTr and Mitsubishi Ships for the design, construction, and delivery of the two MRRVs amounting to JPY14.6-billion (PHP6.4 billion), was signed on Dec. 27, 2019, and became effective on May 8, 2020. (PNA)